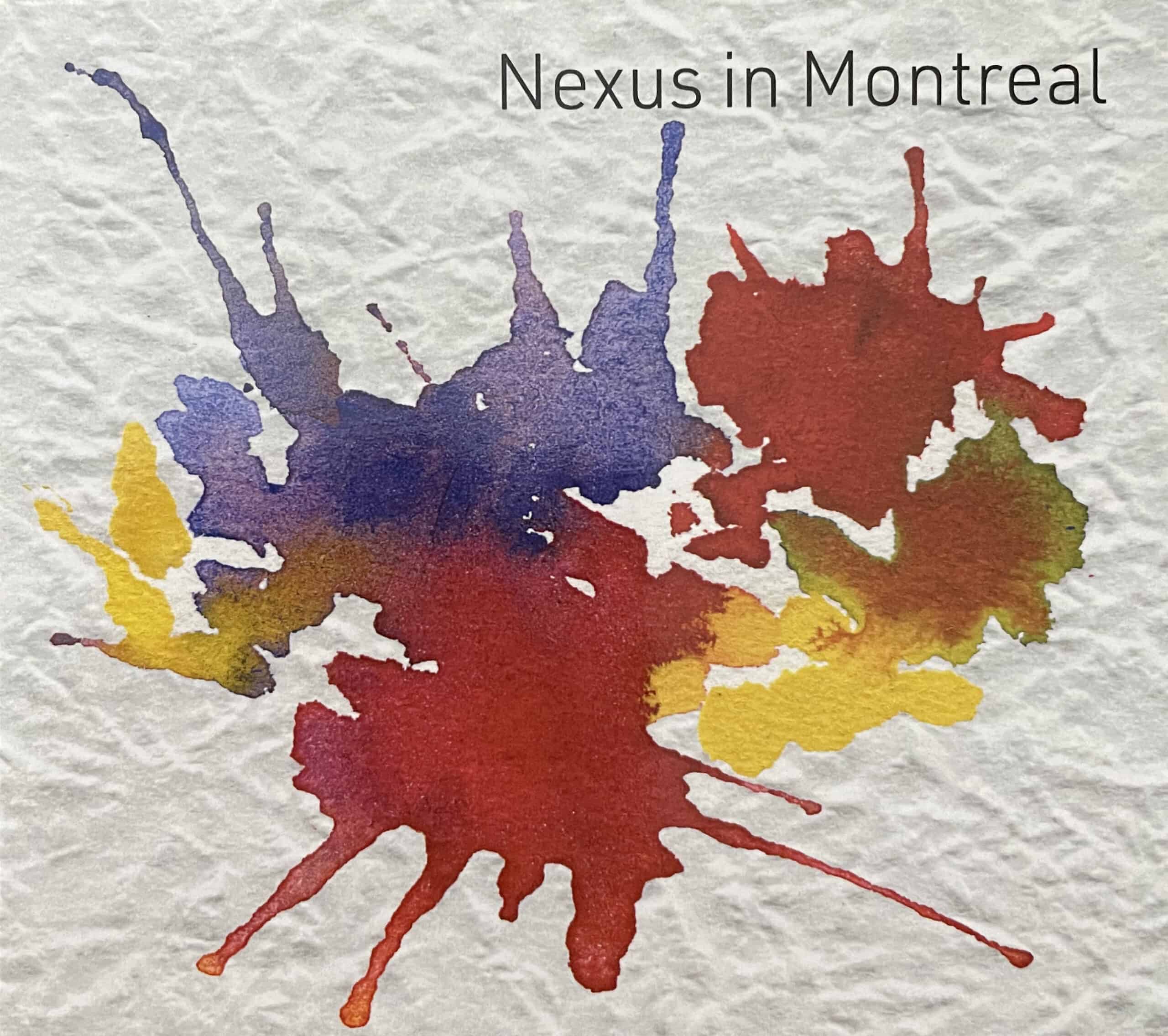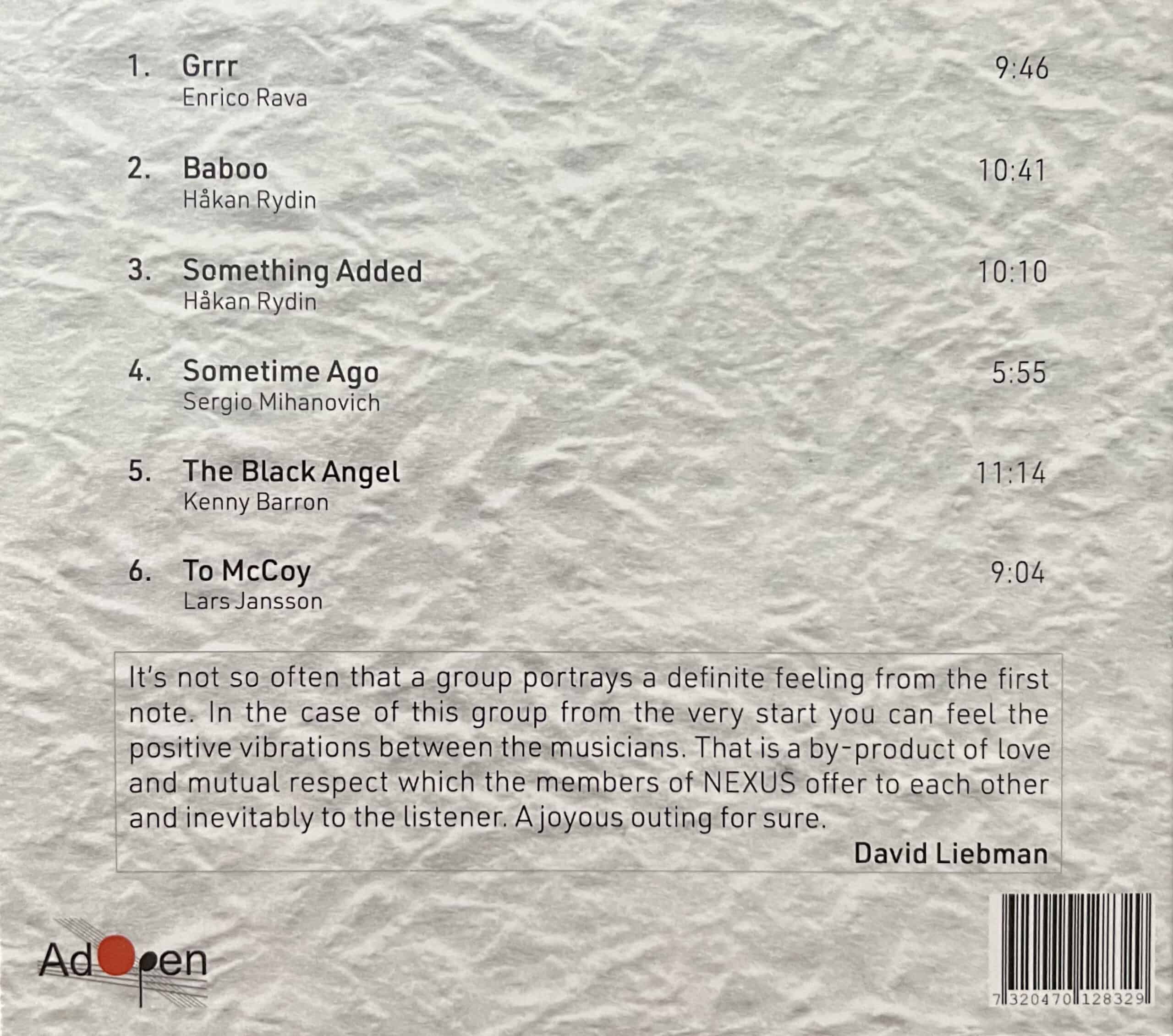 Recorded live at the Montreal Jazz Festival,
July 2, 1986
Released: 2020
AdOpen 20-003
It is not so often that a group portrays a definite feeling from the first note. In the case of this group from the very start you can feel the positive vibrations between the musicians. That is a by-product of love an mutual respect which the members of NEXUS offer to each other and inevitably to the listener. A joyous outing for sure.

DAVID LIEBMAN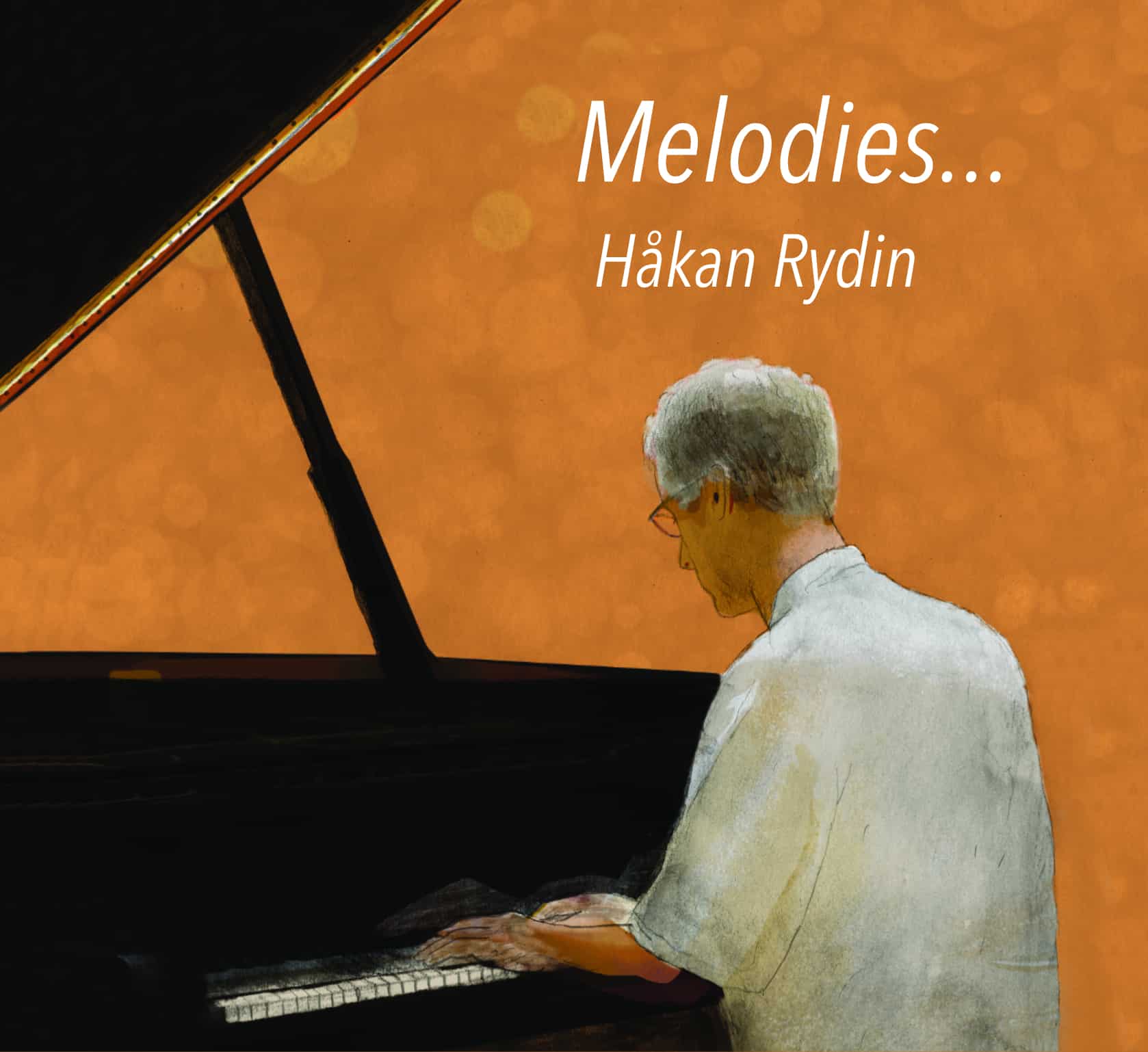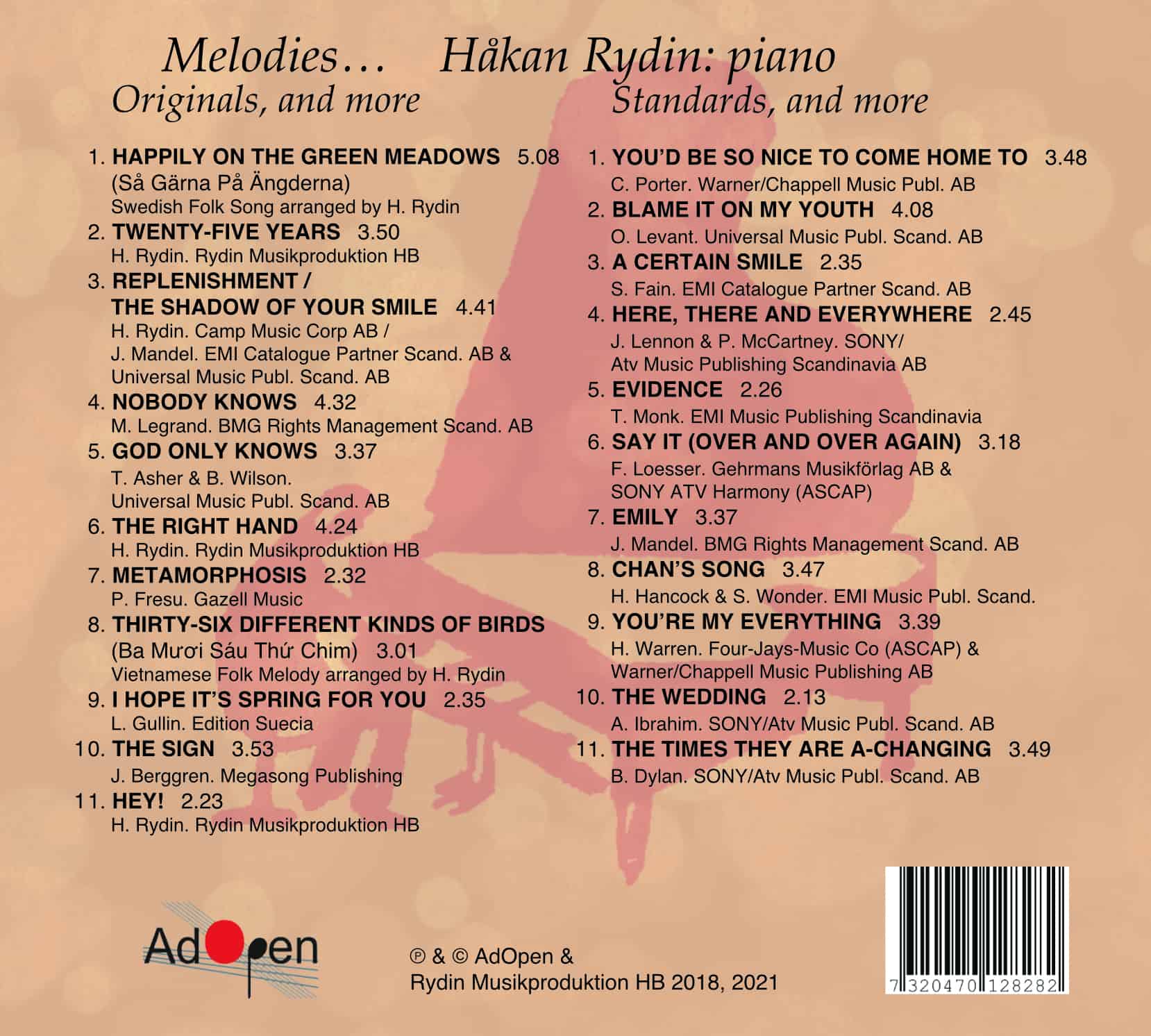 Recorded August 11–13 2018 in VNAM Concert Hall, Hanoi, Vietnam
Released: 2018
AdOpen 18-002
41st Jazz Station awards, USA 2019:
10th best acoustic piano album.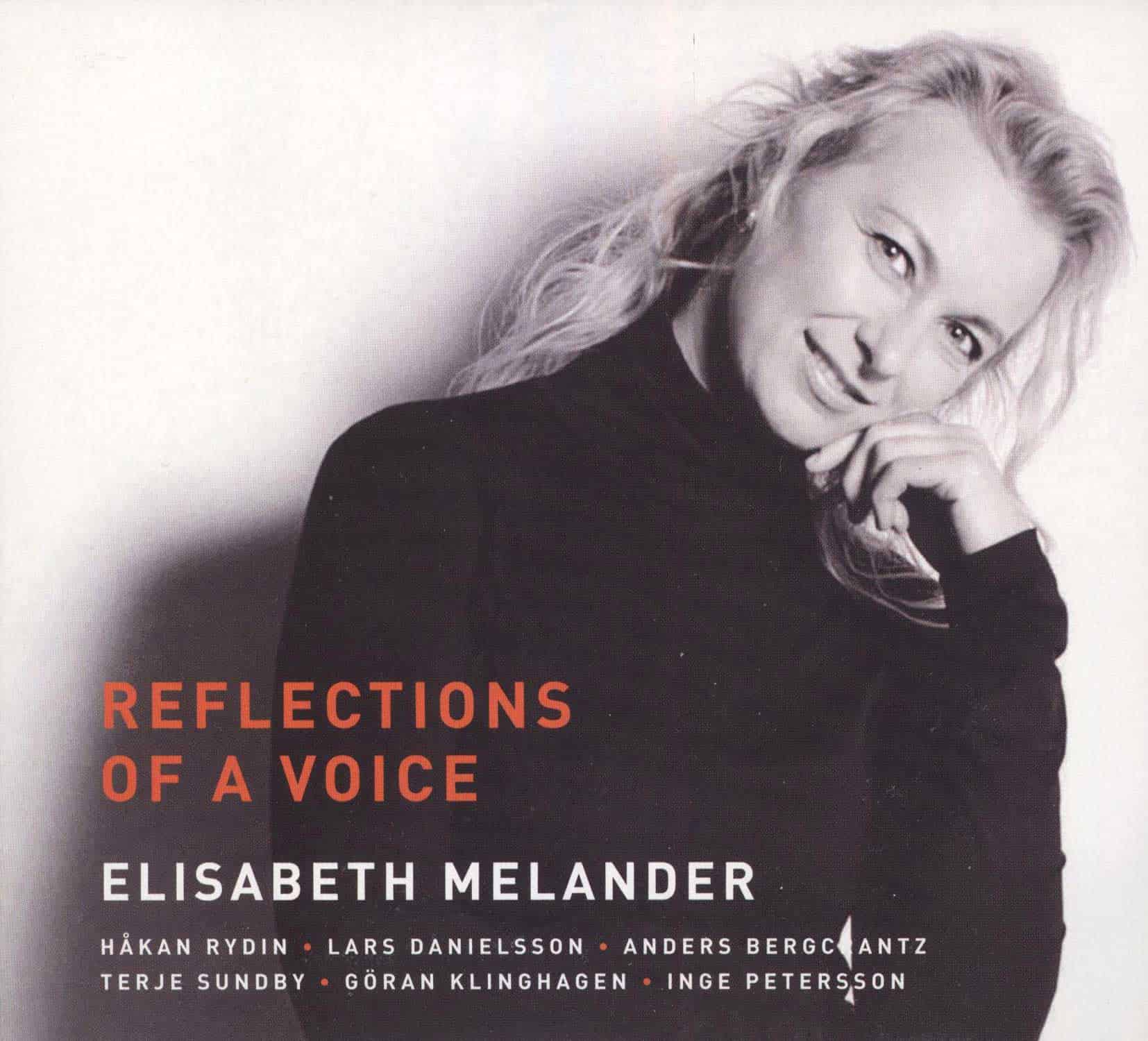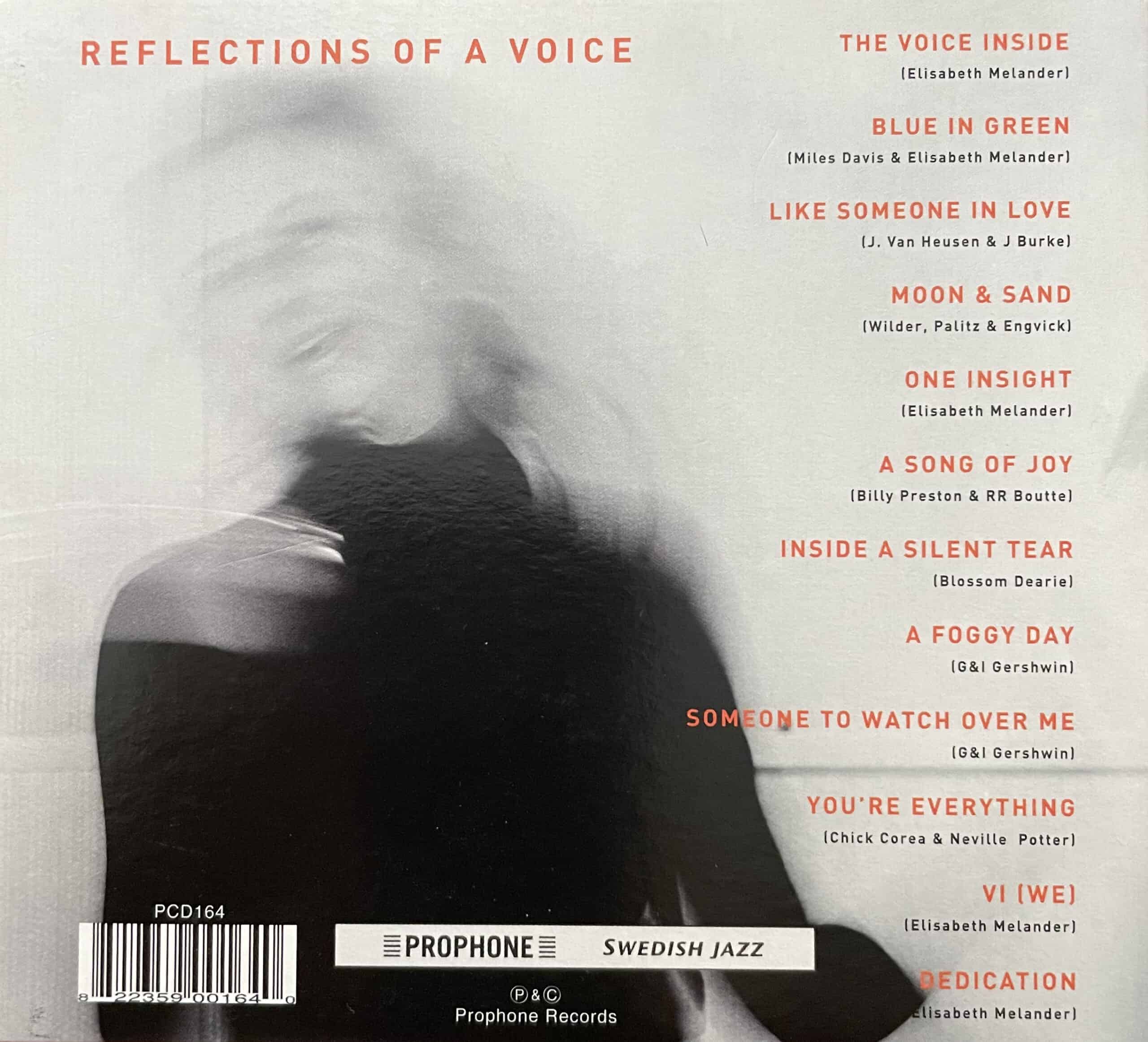 Released: 2017
Prophone PCD 164
Håkan Rydin – även han till vardags en vördad pedagog och dessutom professor vid Sveriges sydligaste musikhögskola – finnas särskilt långt borta. Och det gör han naturligtvis inte på nya albumet "Reflections of a Voice" heller. Att helhetsintrycket blivit så positivt har han stor del i. De gamla "jazztakterna", som vi imponerades av redan när han, tillsammans med saxofonisten Jörgen Nilsson, var en av huvudingredienserna i 80-talskvartetten Nexus och Kim Parkers ständige följeslagare, sitter fortfarande i. Med sin känsla för melodiös skönhet, sitt läckra anslag och harmoniska finess är han fortfarande en jazzpianist av högsta klass. Det är ingen tillfällighet att de bägge duonumren med endast Elisabeth och Håkan, Alec Wilders "Moon & Sand" och bröderna Gerswhins odödliga "Someone to Watch over Me", är två alster som stannar kvar länge i sinnet.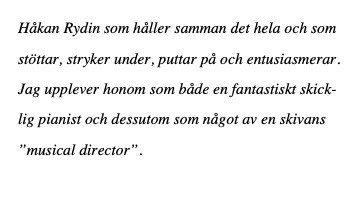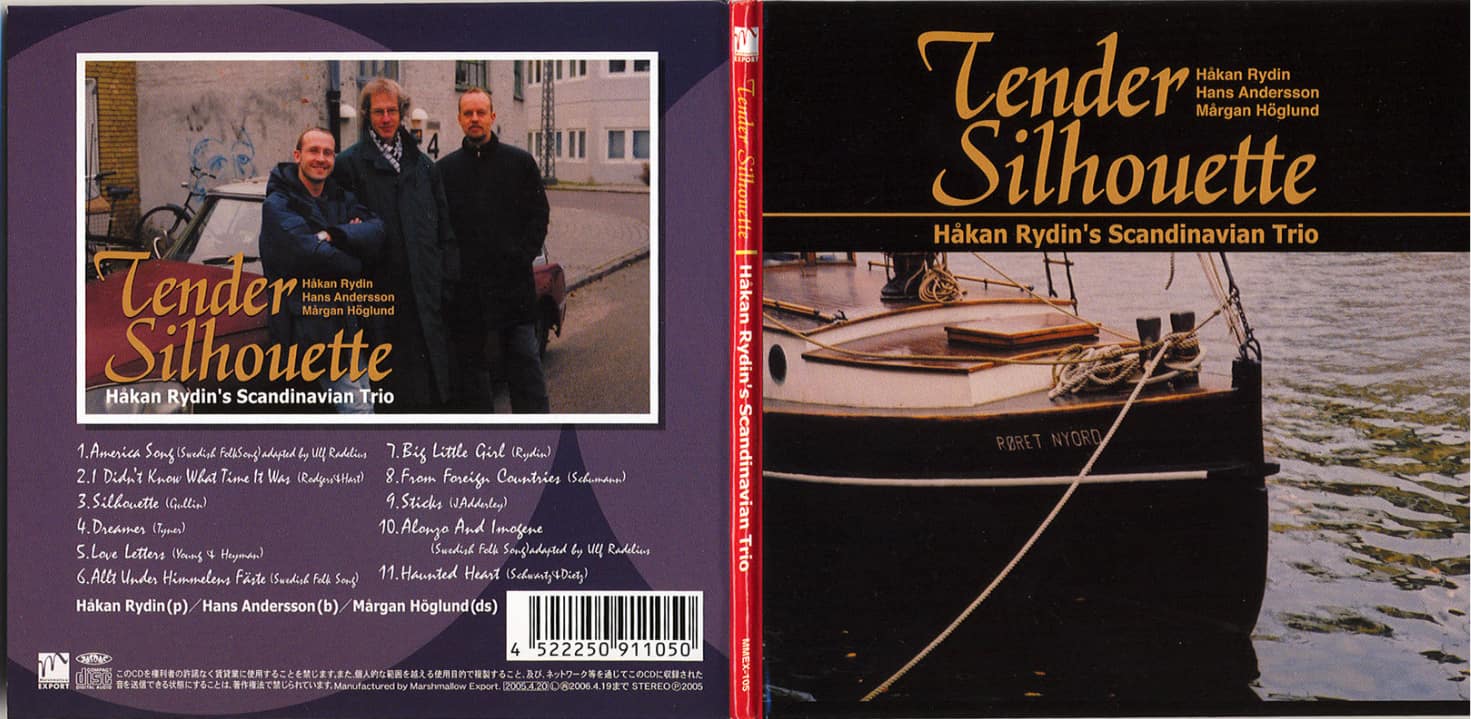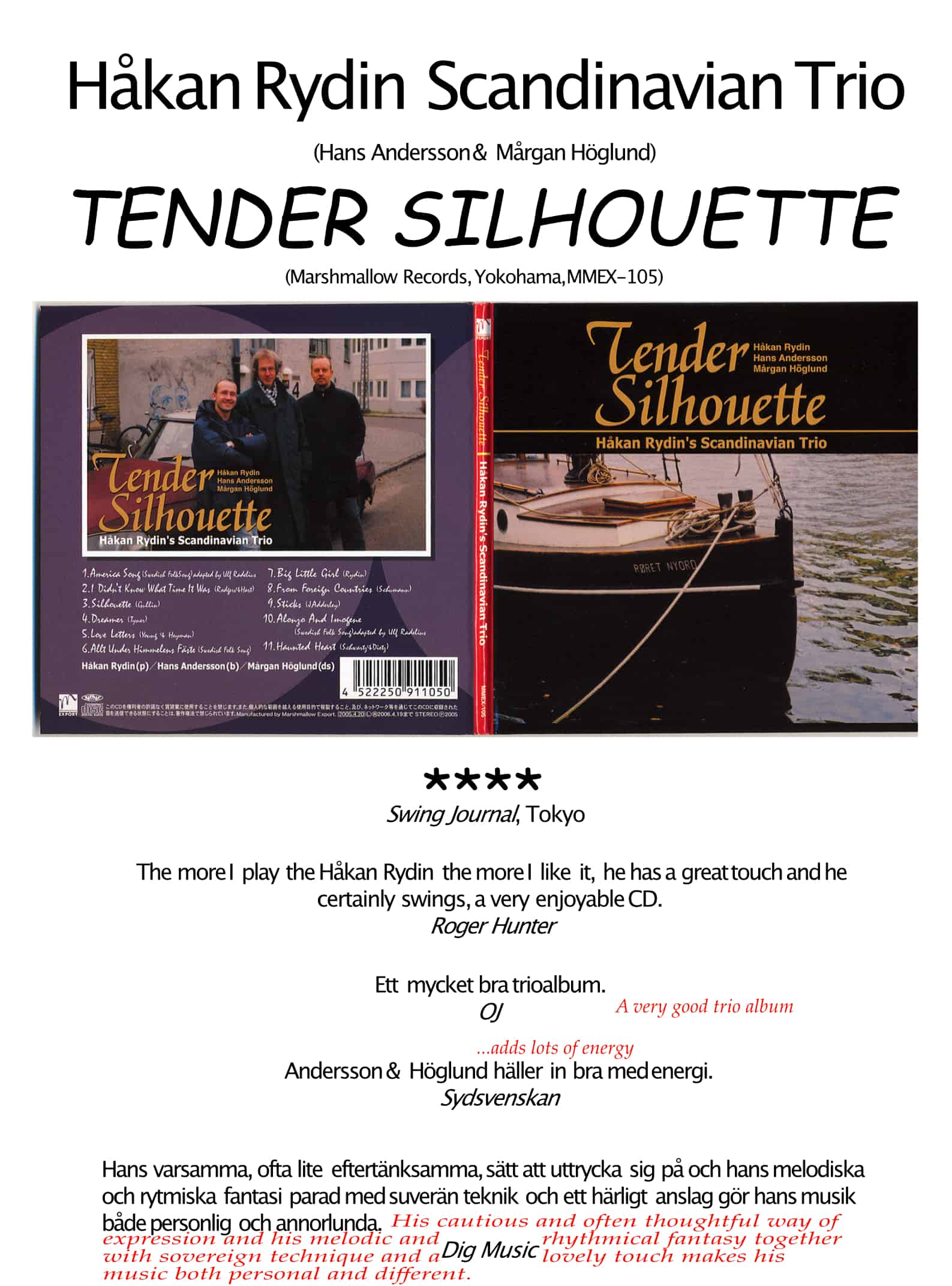 Recorded Sun Studio, November 7–8 2003
Produced by Mituo Johfu
Marshmallow Records, Yokohama
MMEX – 105
"A VERY GOOD TRIO ALBUM"
Jazz (Orkesterjournalen, world's oldest jazz magazine)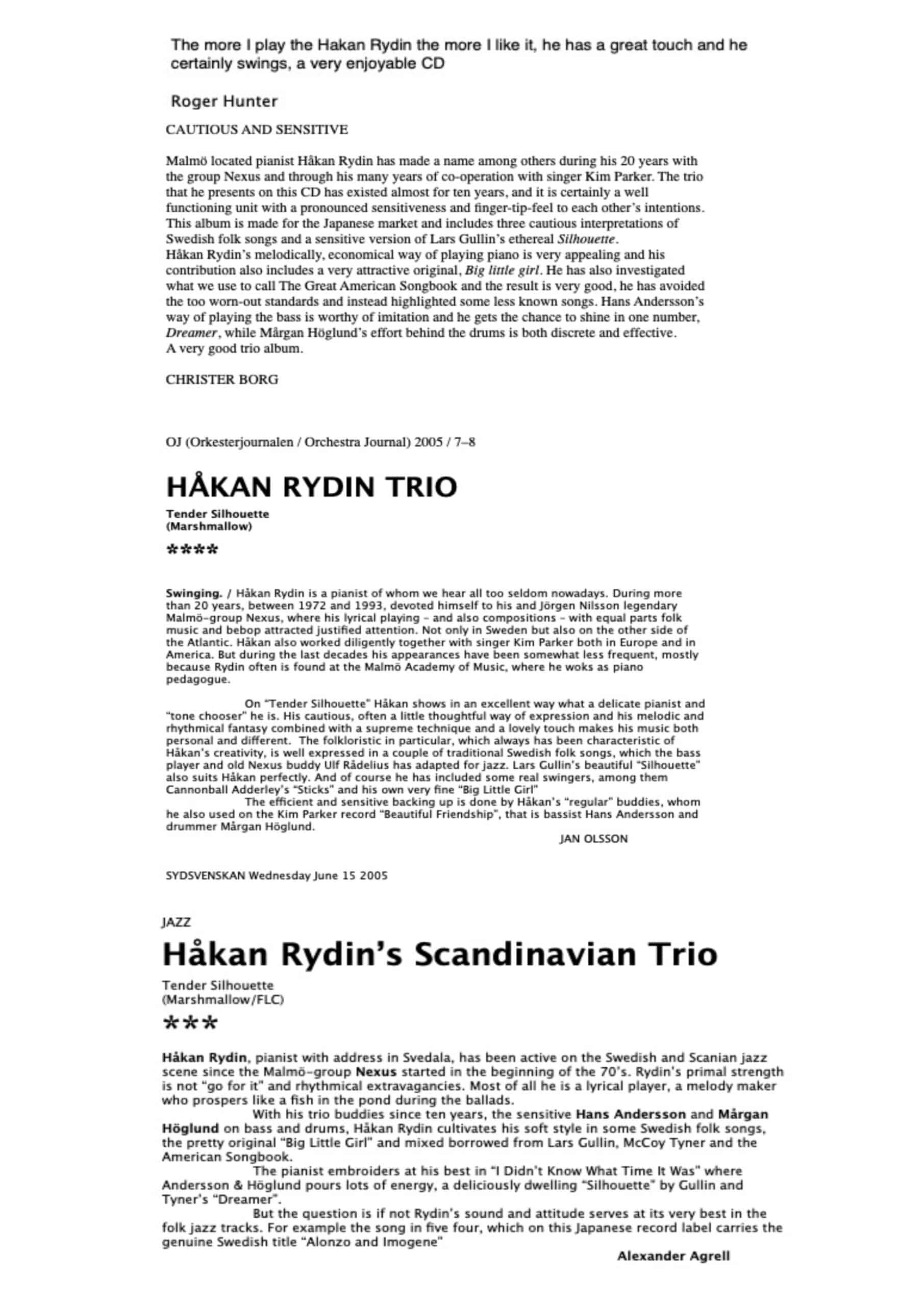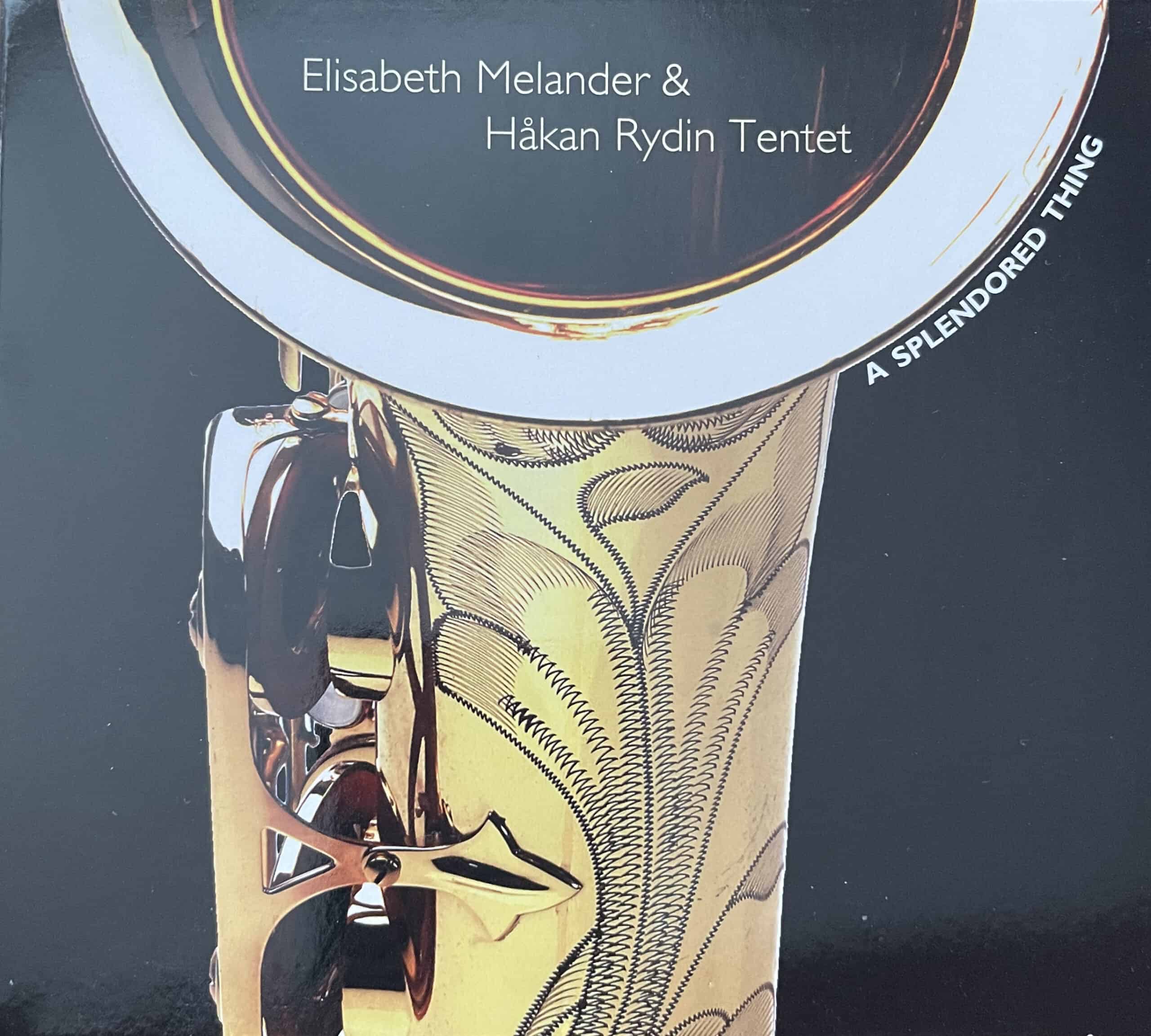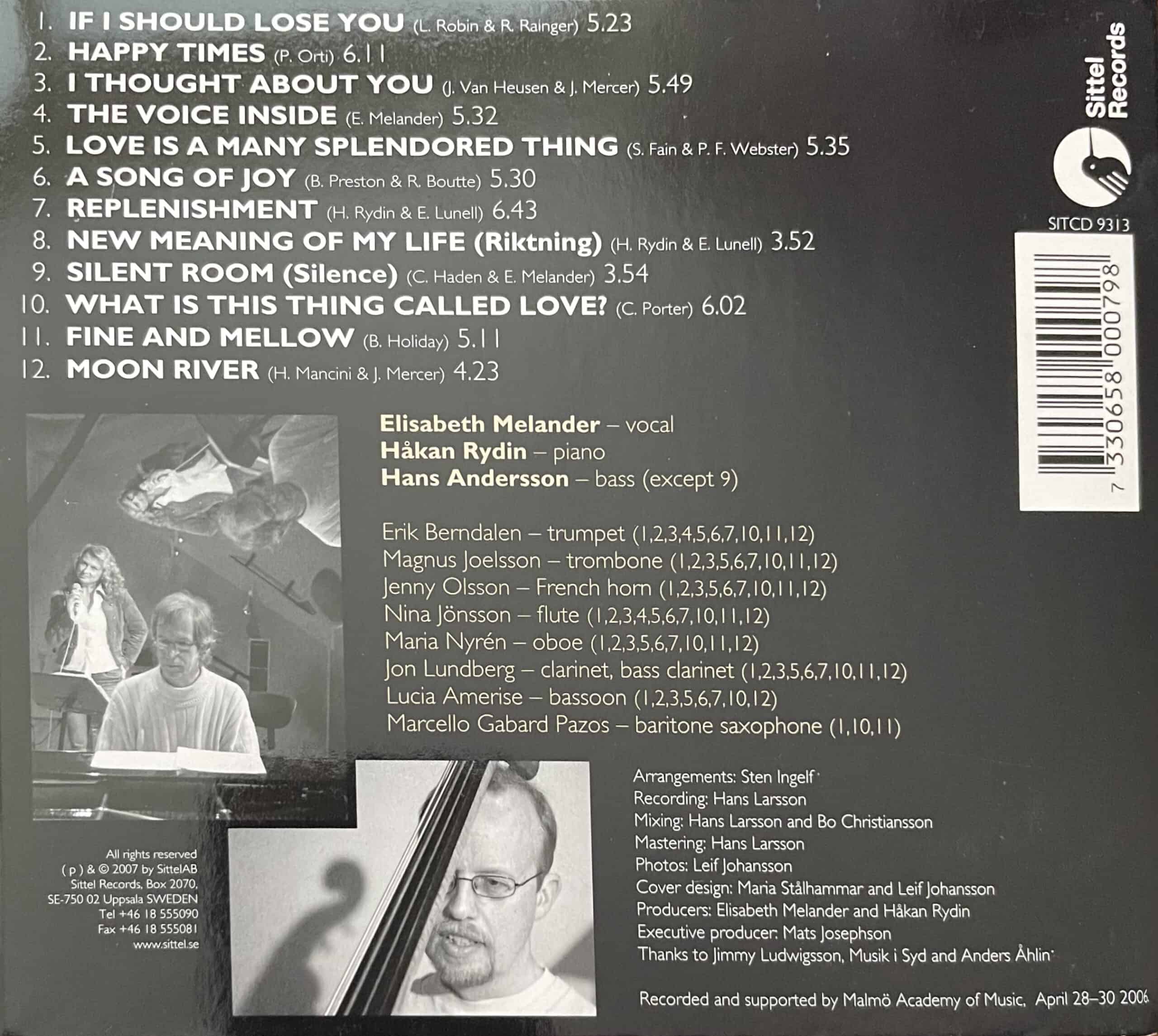 Recorded April at concert hall of Malmö Academy of Music28-30 2006
Sittel Records SRCD 9313 
VECKANS PLATTA (Skånskan)
        Album of the Week (Skånskan)
Håkan, som svarar för ett par fina kompositioner i den i övrigt ganska standardspäckade repertoaren, befäster sin ställning som en av våra mest hörvärda pianister med ett ljuvligt anslag och en melodisk fantasi som är en fröjd för örat.
                                                           Skånskan)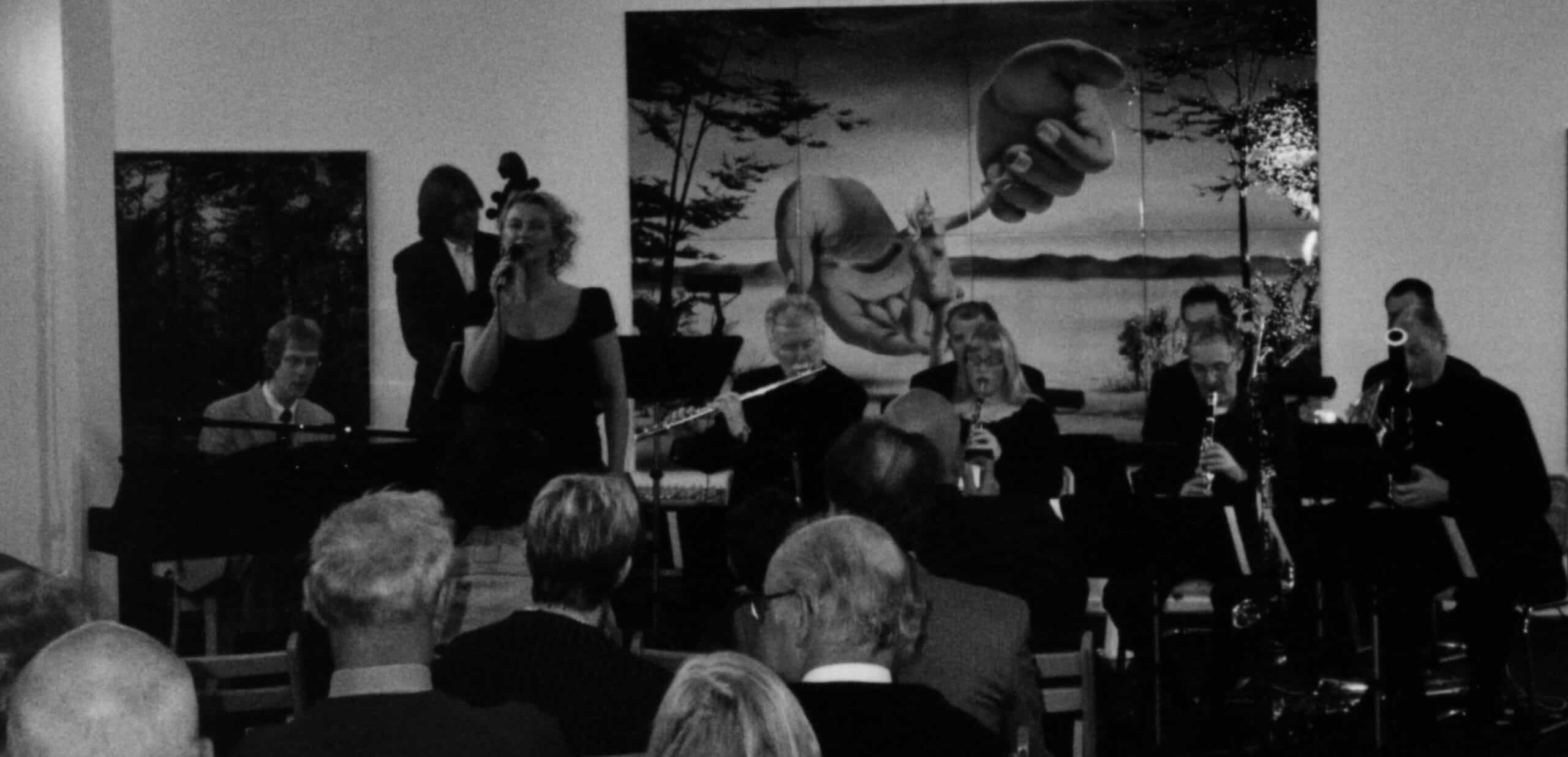 The Tentet in concert 2002, Tomelilla, Sweden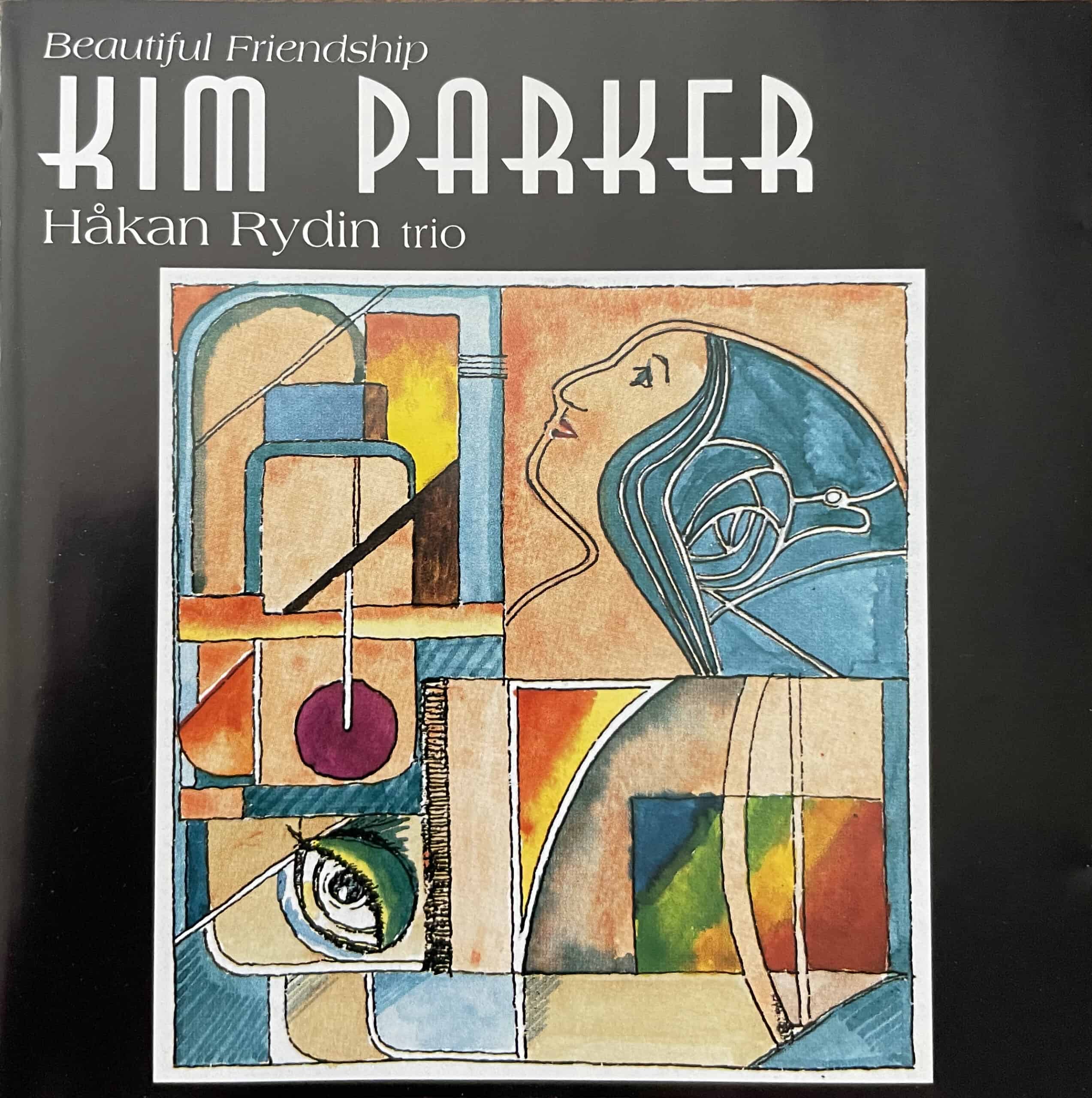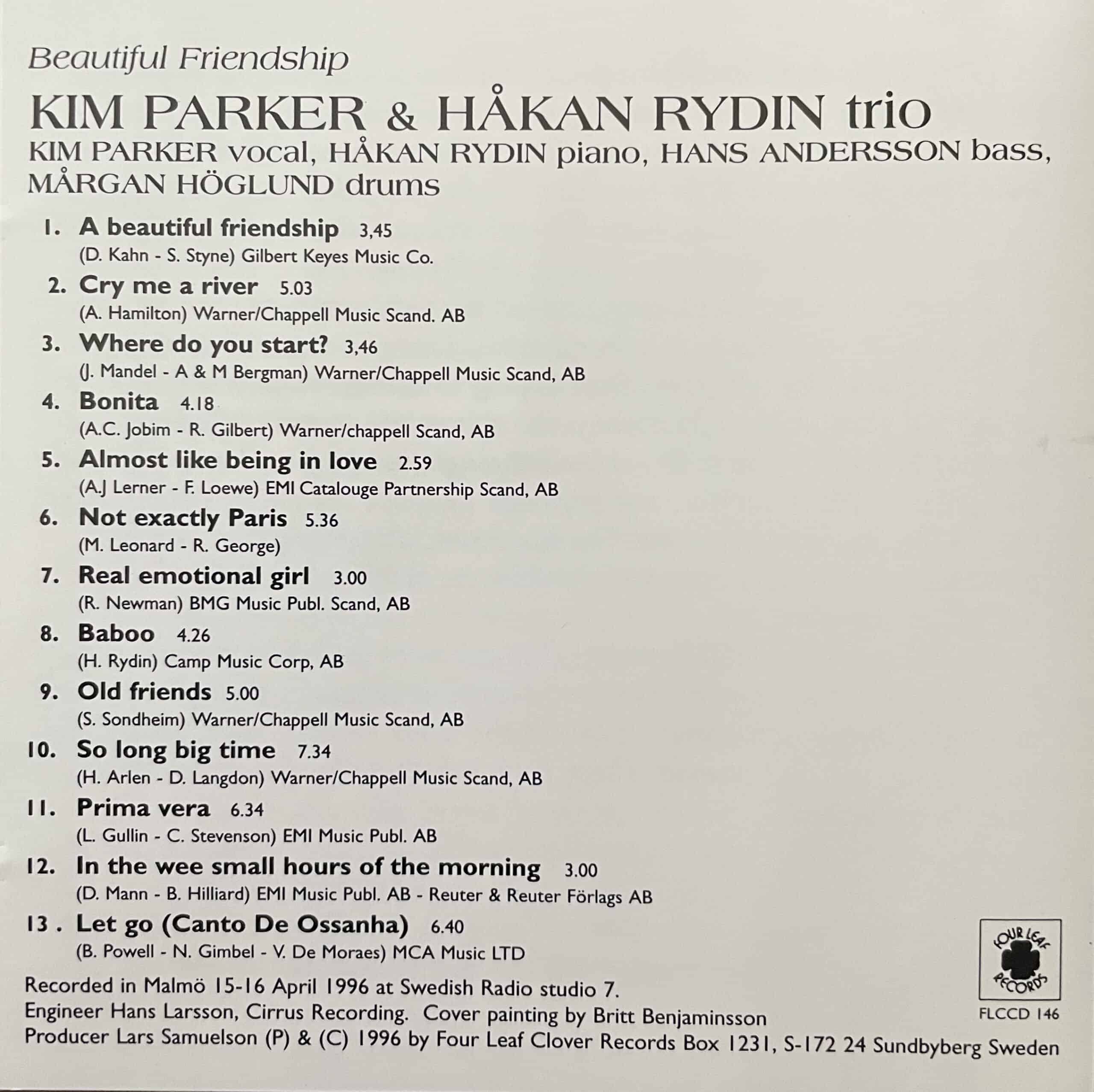 Recorded in Malmö, April 15–16 1996
Four Leaf Clover Records FLCCD 146
Cadence, New York, June 1997

KIM PARKER & HÅKAN RYDIN

BEAUTIFUL FRIENDSHIP, FOUR LEAF 146

Kim Parker knows how to sing jazz and sing it right. On "Beautiful Friendship", one of her infrequent recordings, she comes out swinging and sassy but never overblown. She plays it big on "Beautiful Friendship", is very quiet and dramatic on Randy Newmans "Real Emotional Girl" and shows her ability to work effectively to a big climax on "Let Go" and a bluesier than usual take of "Cry Me A River".

Pianist Håkan Rydin gets equal billing and his quiet but strong playing is a major feature of this CD. He plays inventively with a lot of blues and funk inflections but on the piano trio piece, "Baboo", his sound is brighter and more exploratory like Bill Evans.

                                              Jerome Wilson
After the recording of the CD "Beautiful Friendship" Kim Parker wrote:

   
As a small child, I instinctively knew that musicians are a special breed. They are intelligent and resilient. I think there is no one more adaptable to the life of music than the jazz musician. The rewards are sometimes huge, but often small; sometimes imperceptible. There may be only time for a sandwich on the run; the toilet is in the hall, or maybe the bed is only a piece of furniture to rest your luggage before it's time to leave for the next gig. Still we soldier on, going from town to city to continent, asking only to play, asking only for a pair of ears to hear what we have come to do. I first came to Sweden in 1988 at the invitation of Holger Sönne. My mother, Chan, was also invited and because we are long-time road buddies we were ready and eager to embrace another experience.
   The first gig was at the Jazzklubb in Helsingborg with the band "Nexus". The tour to follow was three weeks long and would cover most of Sweden. I had become somewhat adept at working with musicians with whom I had never worked. Still… you never know. Three weeks is a long time if your coat doesn't ft. I got more than a good fit. I got Håkan Rydin, Ulf Rådelius and Anders Lagerlöf. In short, that tour in Sweden gave me four brothers.
   The collaboration with Nexus lasted six years. Inge Petersson had joined the group, giving us a freshness and an edge. We hung together as family, sharing incredible, indelible experiences.
   Håkan Rydin, my dear brother, the man who uses no written music, the guy with the big safety net, has formed a new trio. I joined them for a tour in 1995
   Mårgan Höglund and Hans Andersson are wonderfully tasty players and great road rats. We hoped to continue working together.
The call came. Just like in the movies. "Lasse Samuelson here. How would you like to record for Four Leaf Clover Records?"
   "Oh yeah. We could do that! Where? When?" Don't you just love the movies? This wasn't the movies but the real thing.
   The leading man (Samuelson) added his enthusiasm to ours, which gave us what you hold in your hand today. Lasse, a musician and arranger, could hear the things we were hoping to convey through our modest songs. He gave us the opportunity, the space (the National Radio, Malmö) and the big ears to guide us through. He gave us himself but he also gave us Hans Larsson, our engineer. I cannot say enough about their professionalism and humanity. The musicians, the setting, the love and guidance of these two men and the time we spent together, is all that this album signifies.
   To call it "A Beautiful Friendship" is just what it says. It started with Holger Sönne and Håkan Rydin and Nexus. It continues through Mårgan and Hans, Lasse and Hasse. It travels the small roads of Sweden, up and back again, out and beyond. There is no substitute for friendship and I have been blessed.
                             Kim Parker
                             Delaware Water Gap
                             Summer '96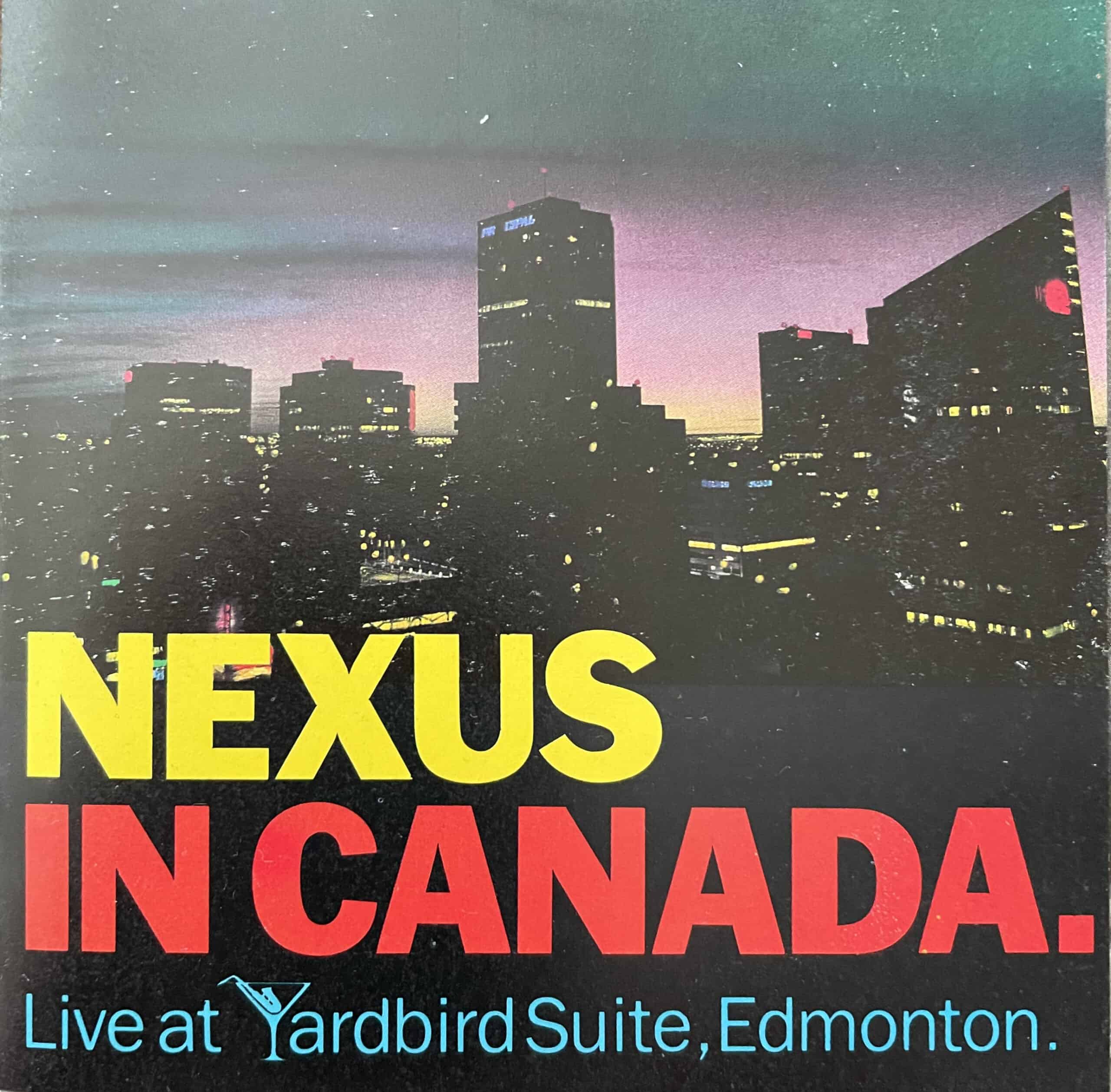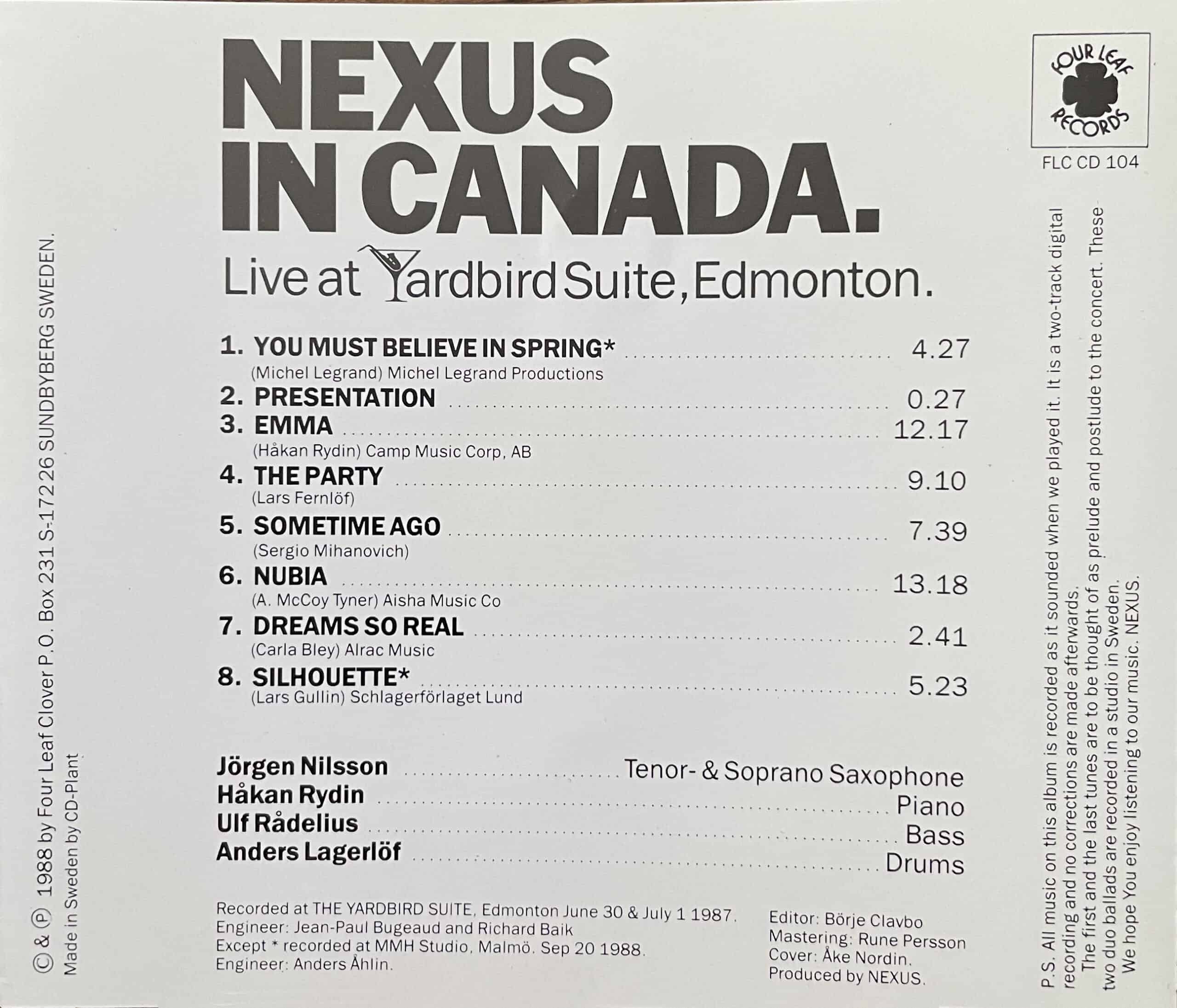 Recorded live at the Yardbird Suite in Edmonton, Canada
June 30 and July 1, 1987
Four Leaf Clover Records FLCD except track 1, recorded in Malmö September 20, 1988
 "Original-Nexus last record is in our opinion also their best"

"… all the way through it is high-class modern music…"

Arbetet

"…a nice rhythmic flow…" "It swings a lot. A CD I wouldn't be without." ÖC

"…Nexus in Canada is even better. It is altogether superb." "…a CD on a high international level."                                     

OJ

"The touch is melodic…" "…a beautiful unbroken feeling from beginning to end."

SDS                                                                       

"…and play more powerful, extrovert and exciting, and fascinate with their immense togetherness."

Skånska Dagbladet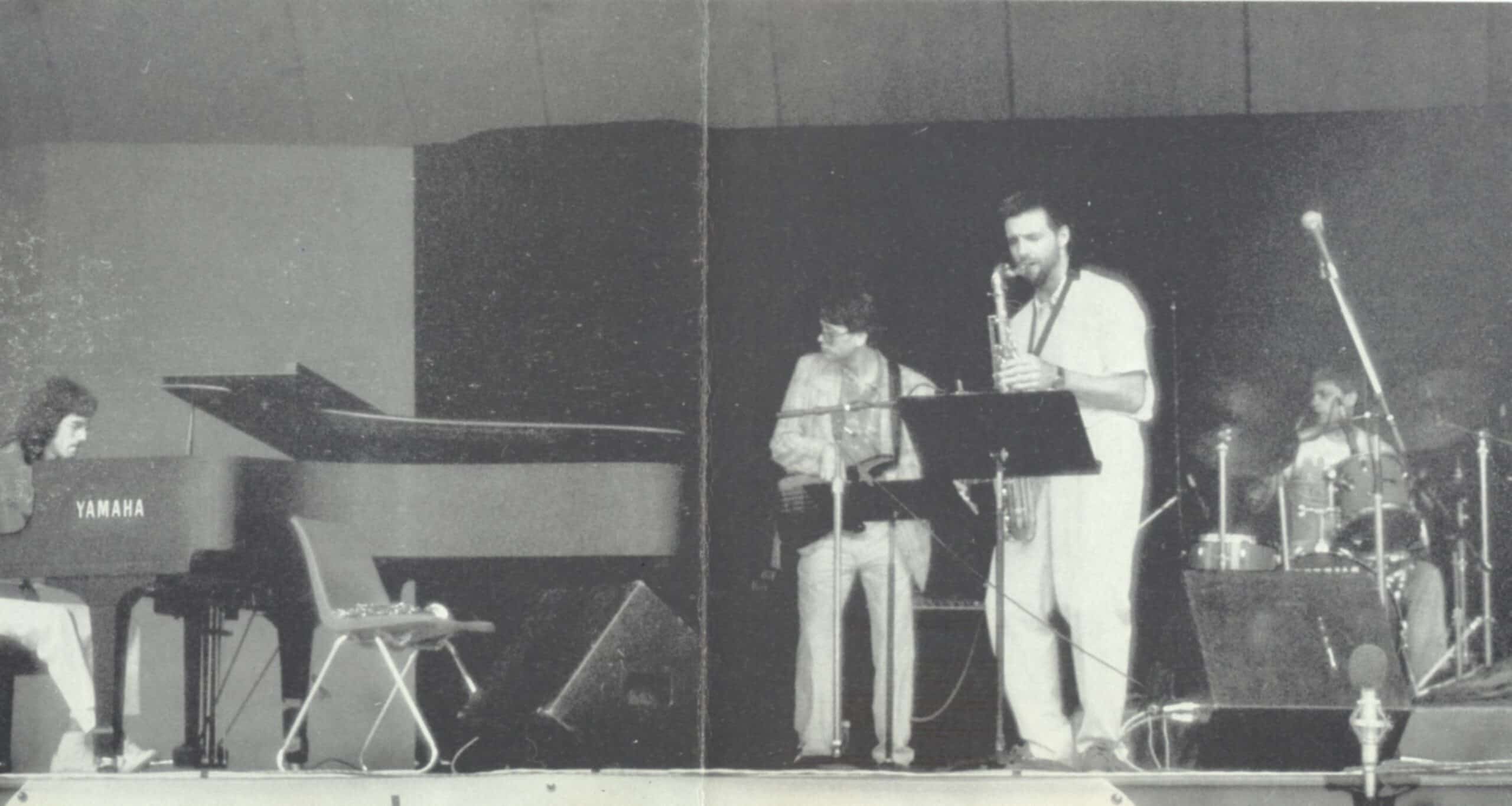 Nexus – an excellent quartet, better than ever
OJ (Worlds oldest jazz magazine)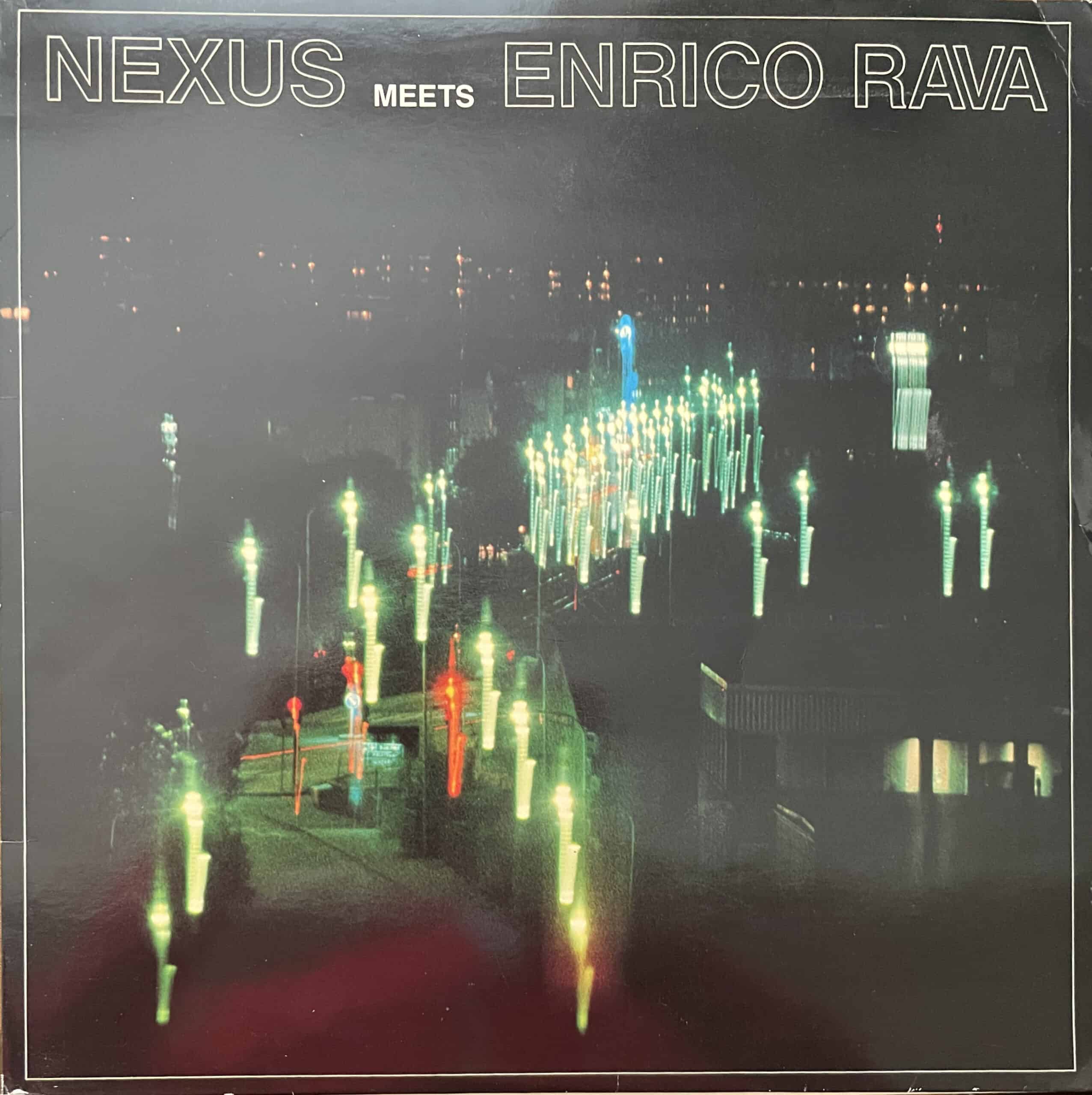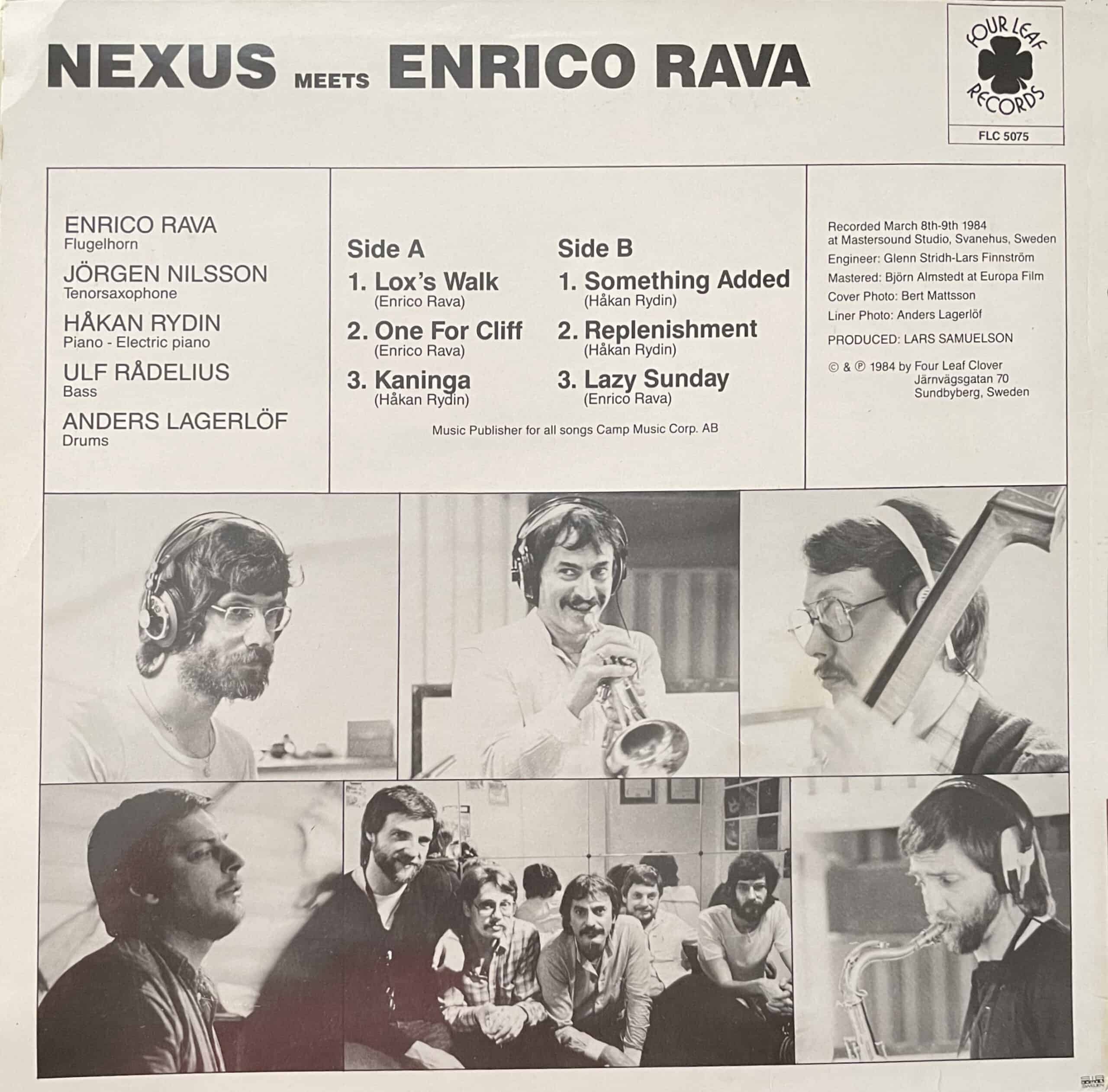 Recorded March 8–9 1984 in Mastersound Studio, Sweden
Four Leaf Clover Records FLC 5075
Enrico Rava – flugelhorn

Jörgen Nilsson – tenor saxophone

Håkan Rydin – piano, electric piano

Ulf Rådelius – double bass

Anders Lagerlöf – drums                                   

Side A

1. Lox's Walk (Rava)

2. One For Cliff (Rava)

3. Kaninga (Rydin)

Side B

1. Something Added (Rydin)

2. Replenishment (Rydin)

3. Lazy Sunday (Rava) 

   

Produced by Lasse Samuelson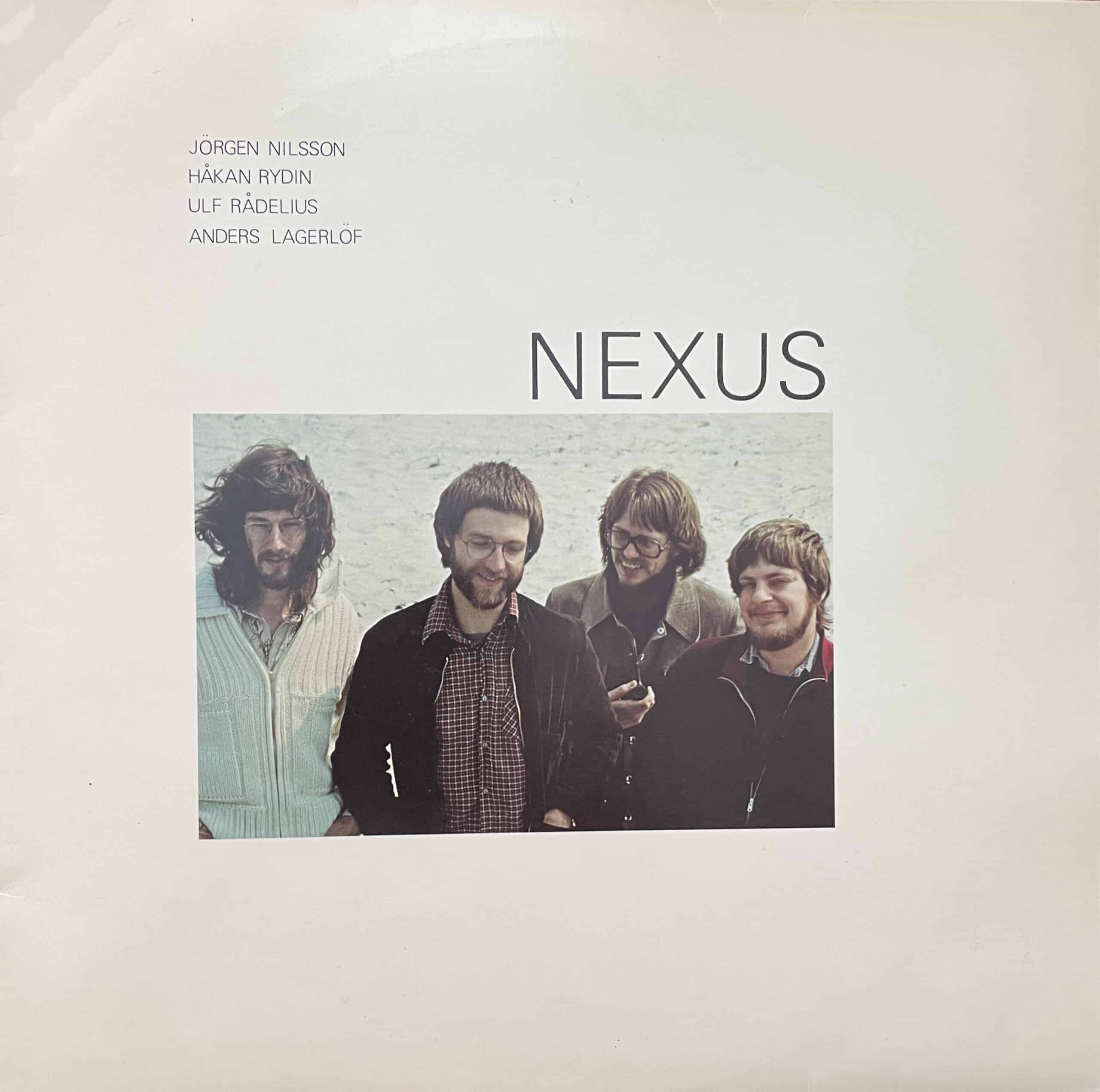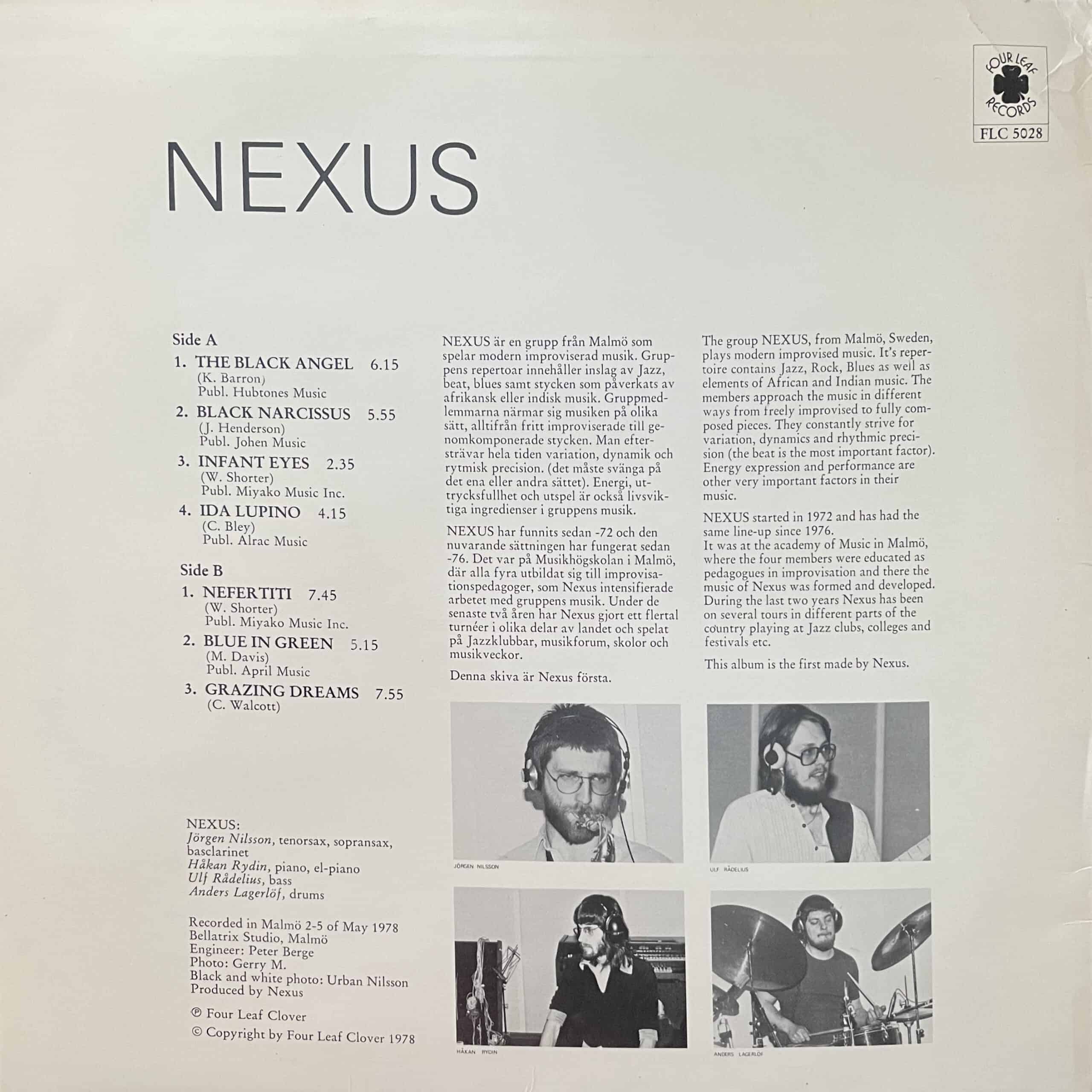 JRecorded May 2–5 1978 in Malmö, Sweden Four Leaf records FLC 5028
Also released in Japan as "NEXUS FIRST"            on SweDisc Jazz Records SJ25-9005
Five stars in OJ (Orkesterjournalen, world's oldest jazz magazine)

 

 

 

 

 

 

 

"Excellent Swedish Jazz"

               YA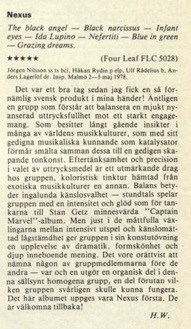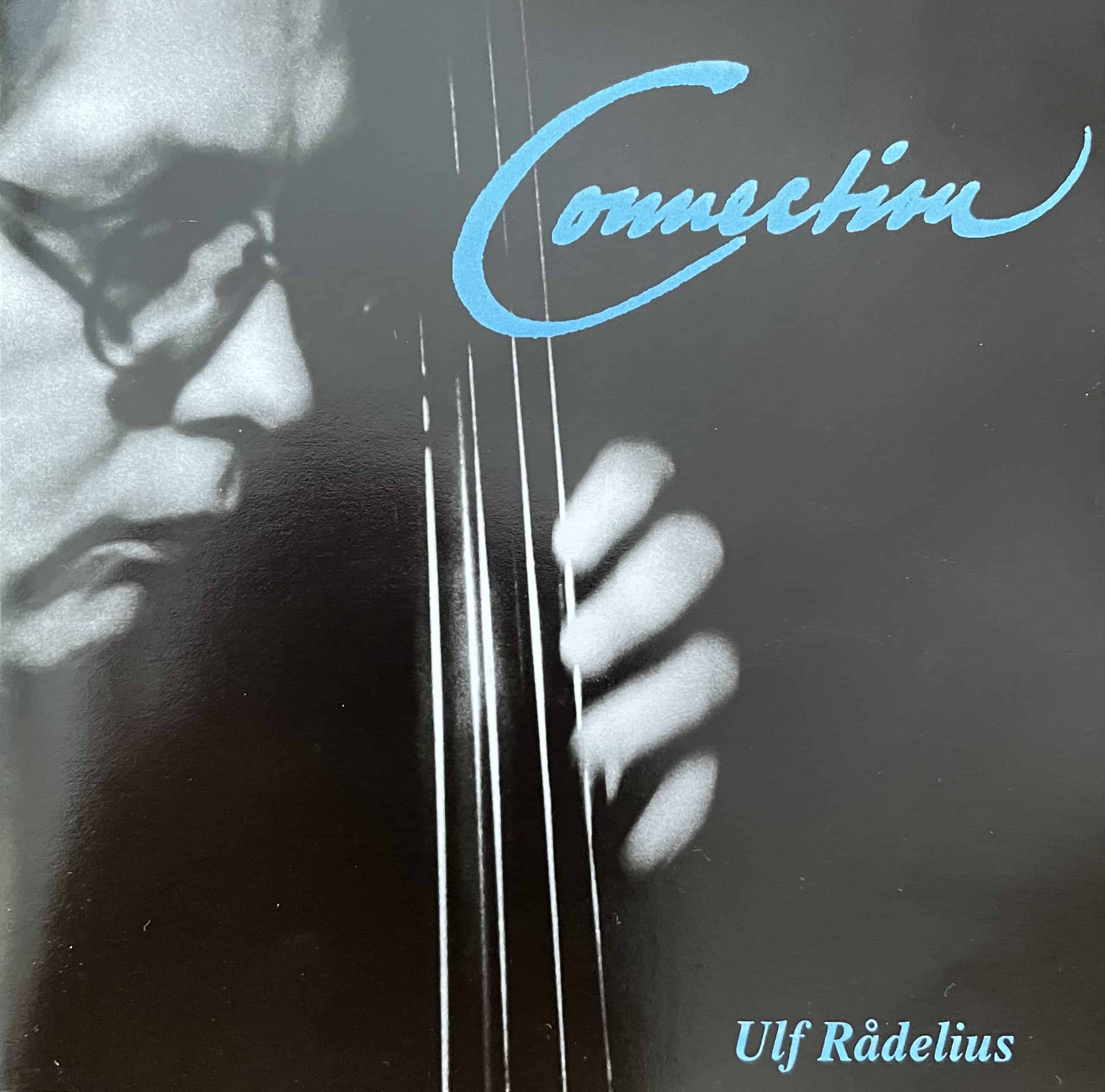 Recorded in Malmö, Sweden 1999
URCD 9901
Ulf Rådelius – bass, composer, producer

Karl-Martin Almqvist – saxophone

Mats Holtne – guitar

Håkan Rydin – piano

Keith Copeland – drums, co-production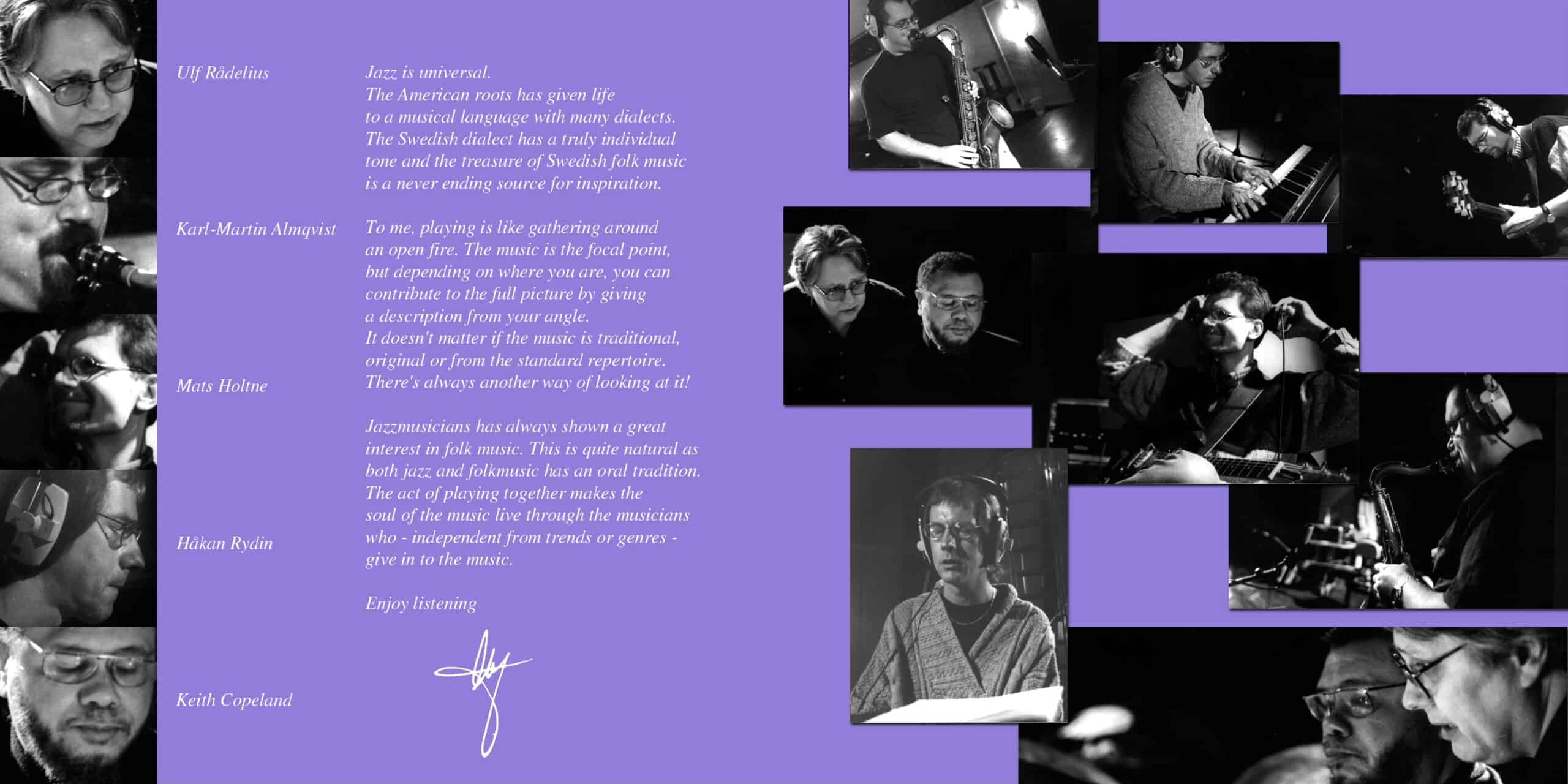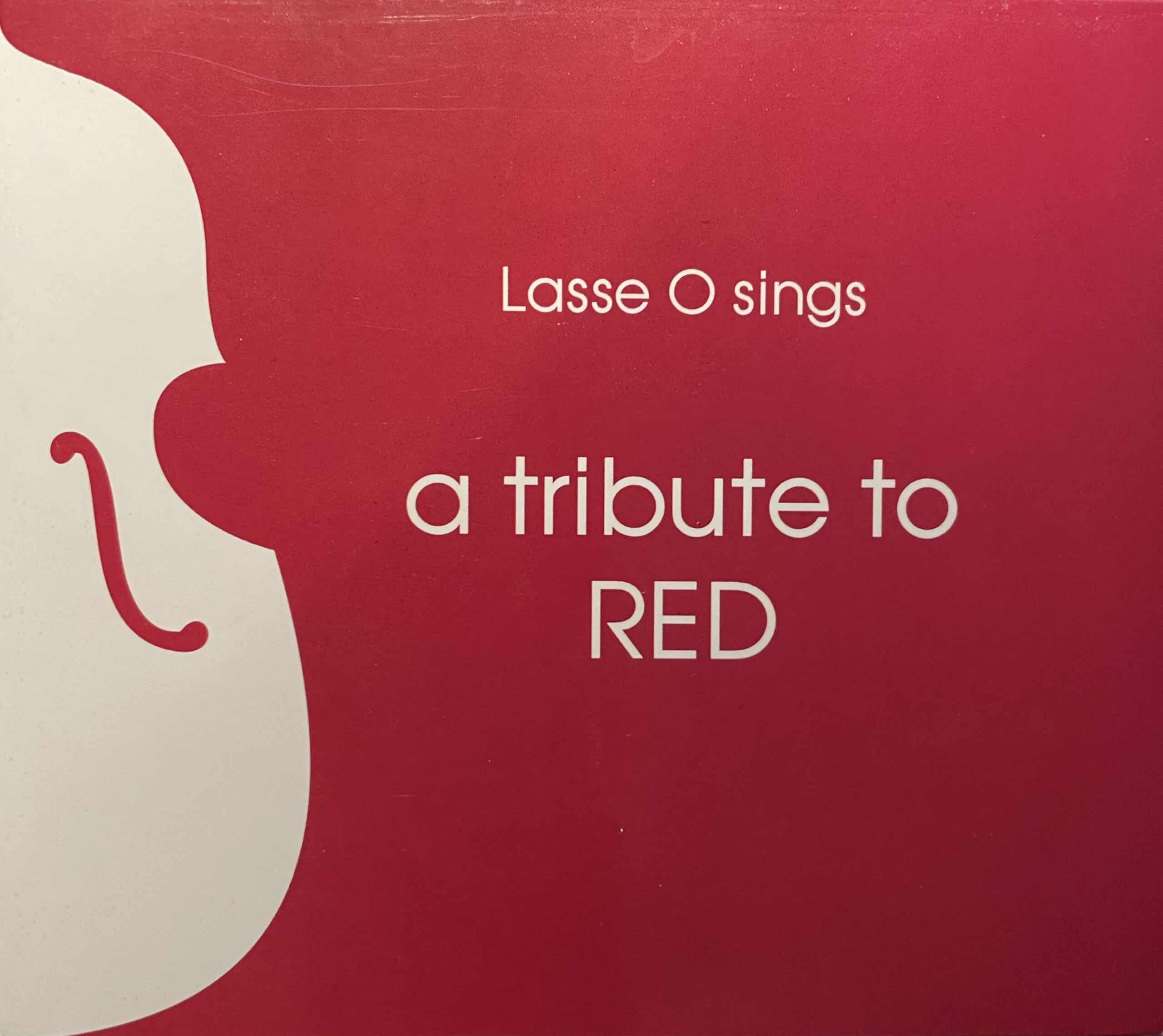 Recorded in Lund, Sweden, December 13, 1991 
hi-hat records HHCD-132
 This is Red Mitchell's last recording 
Lasse O – vocals, producer

Red Mitchell – bass

Håkan Rydin – piano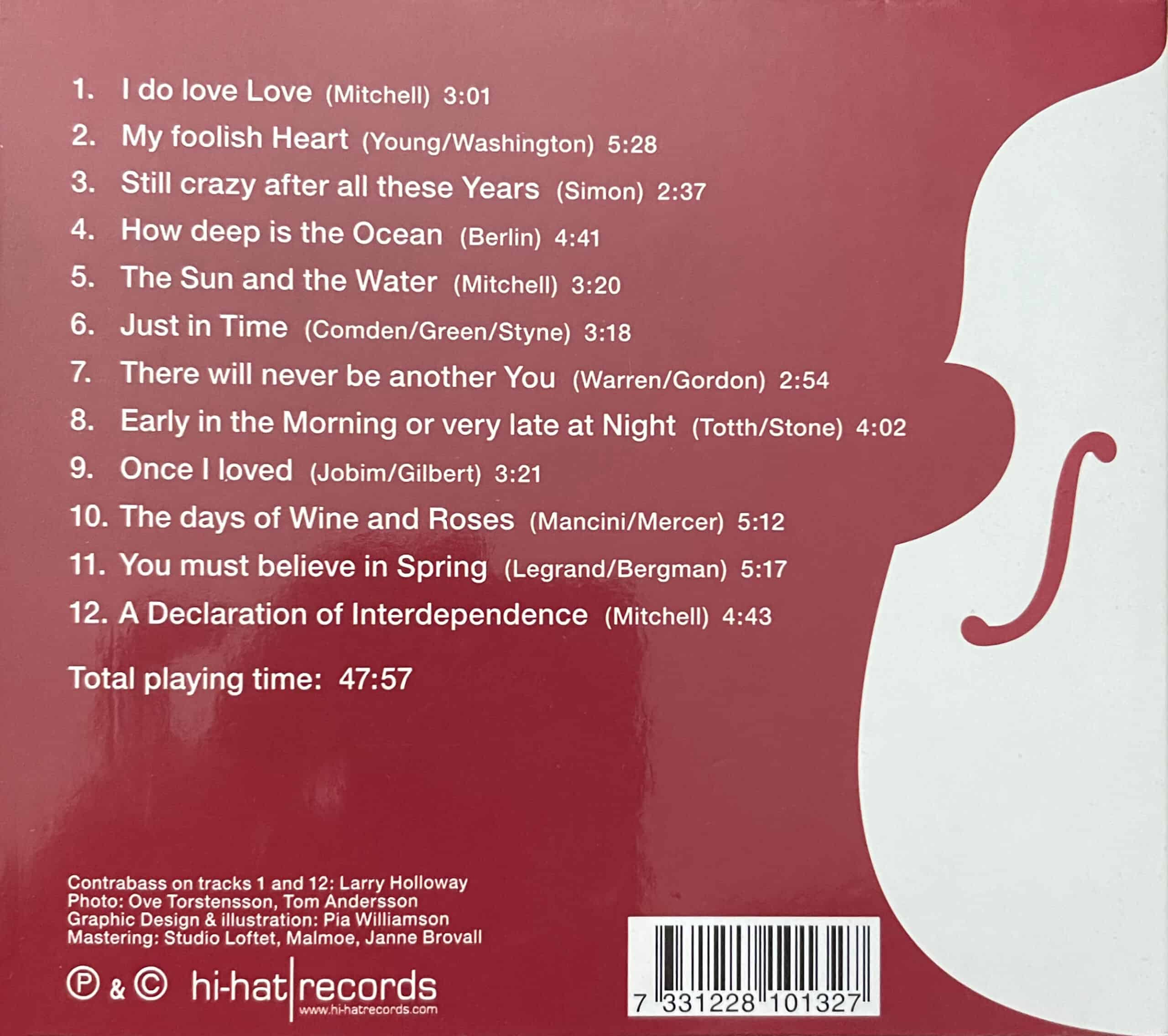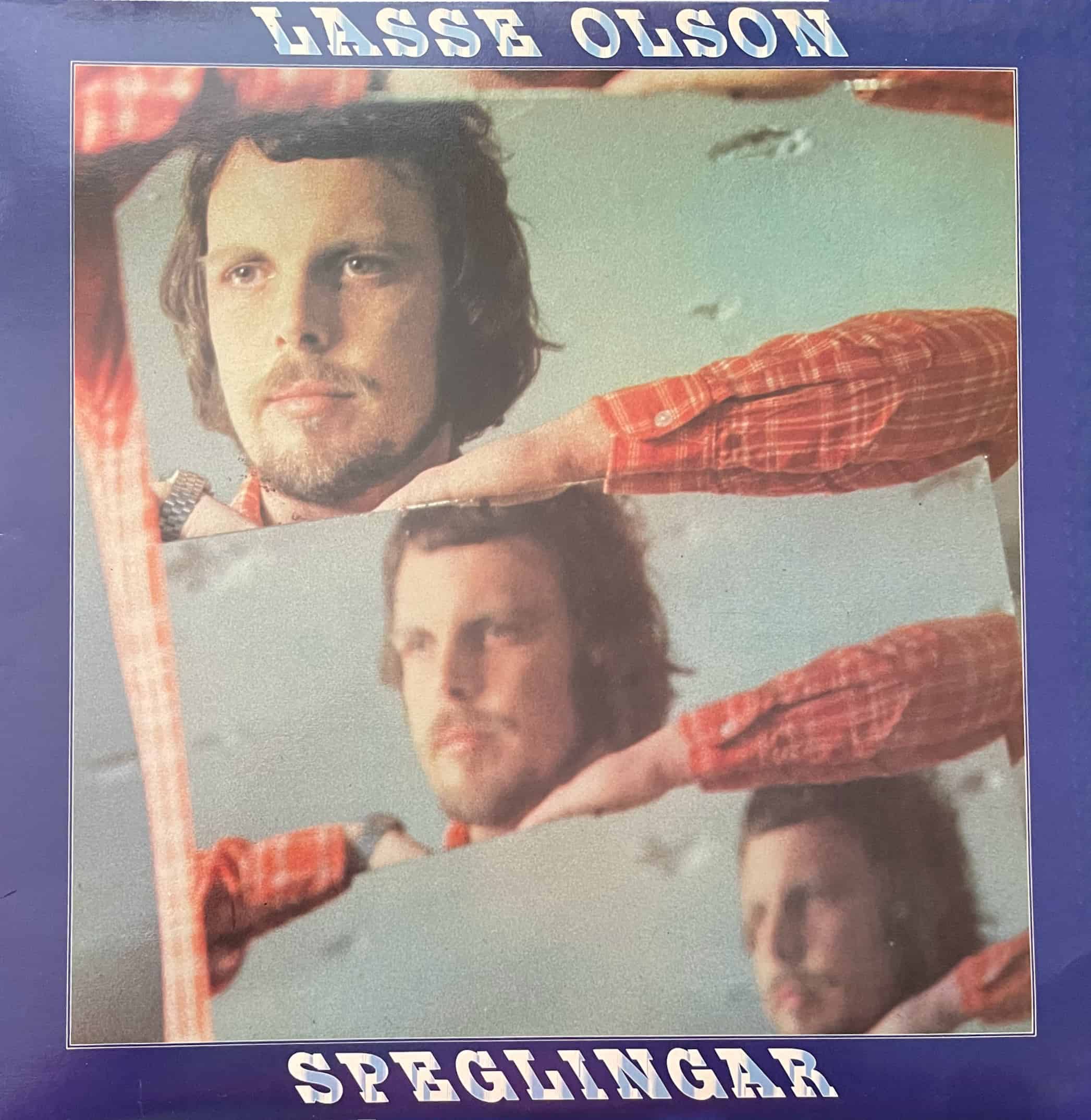 Recorded 1979 in Mastersound Studio, Sweden
GoodWill Records GWLP 2010
Lasse O – vocals, producer

Håkan Rydin – piano

Rhythm section, horns, reeds and strings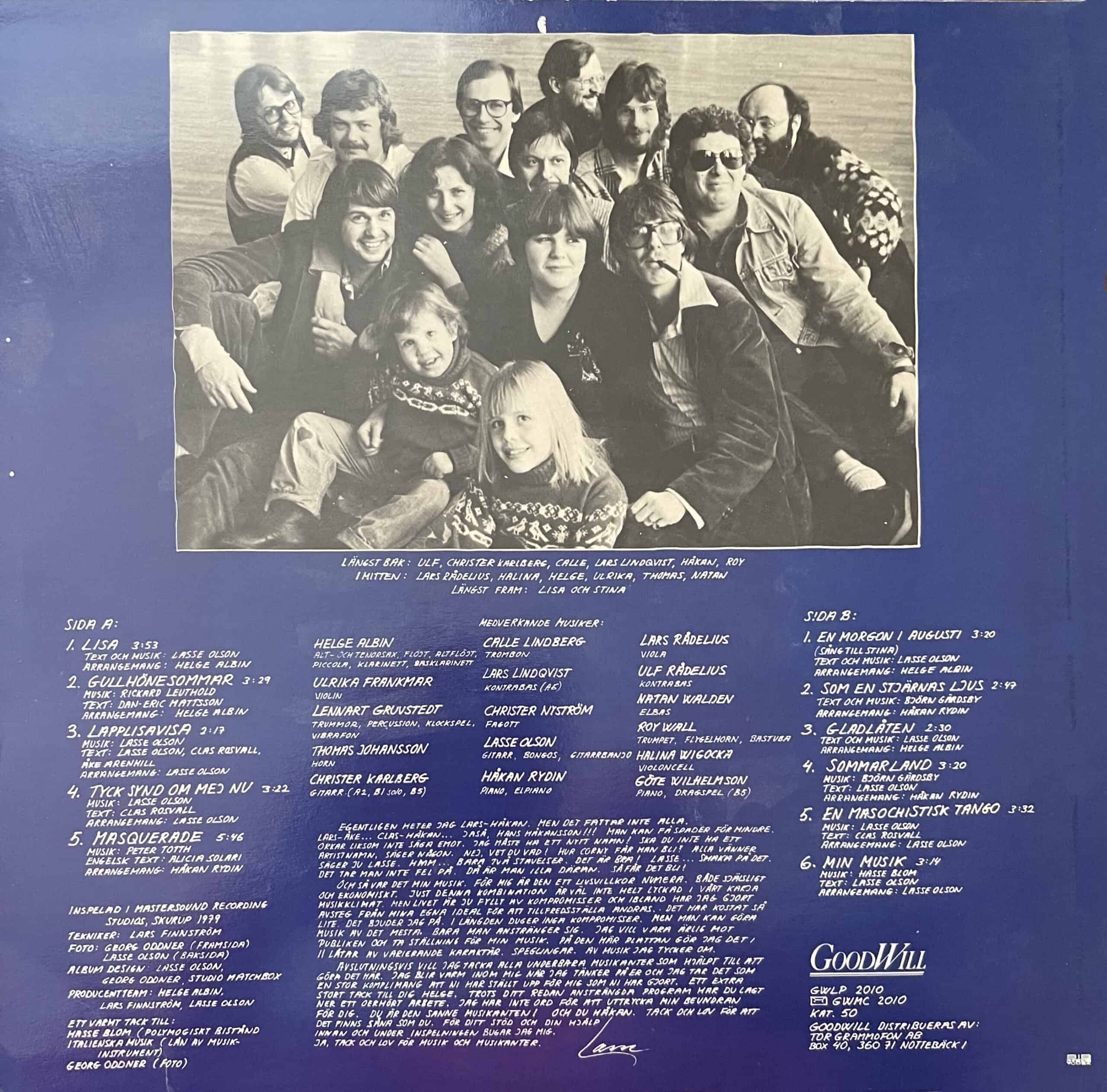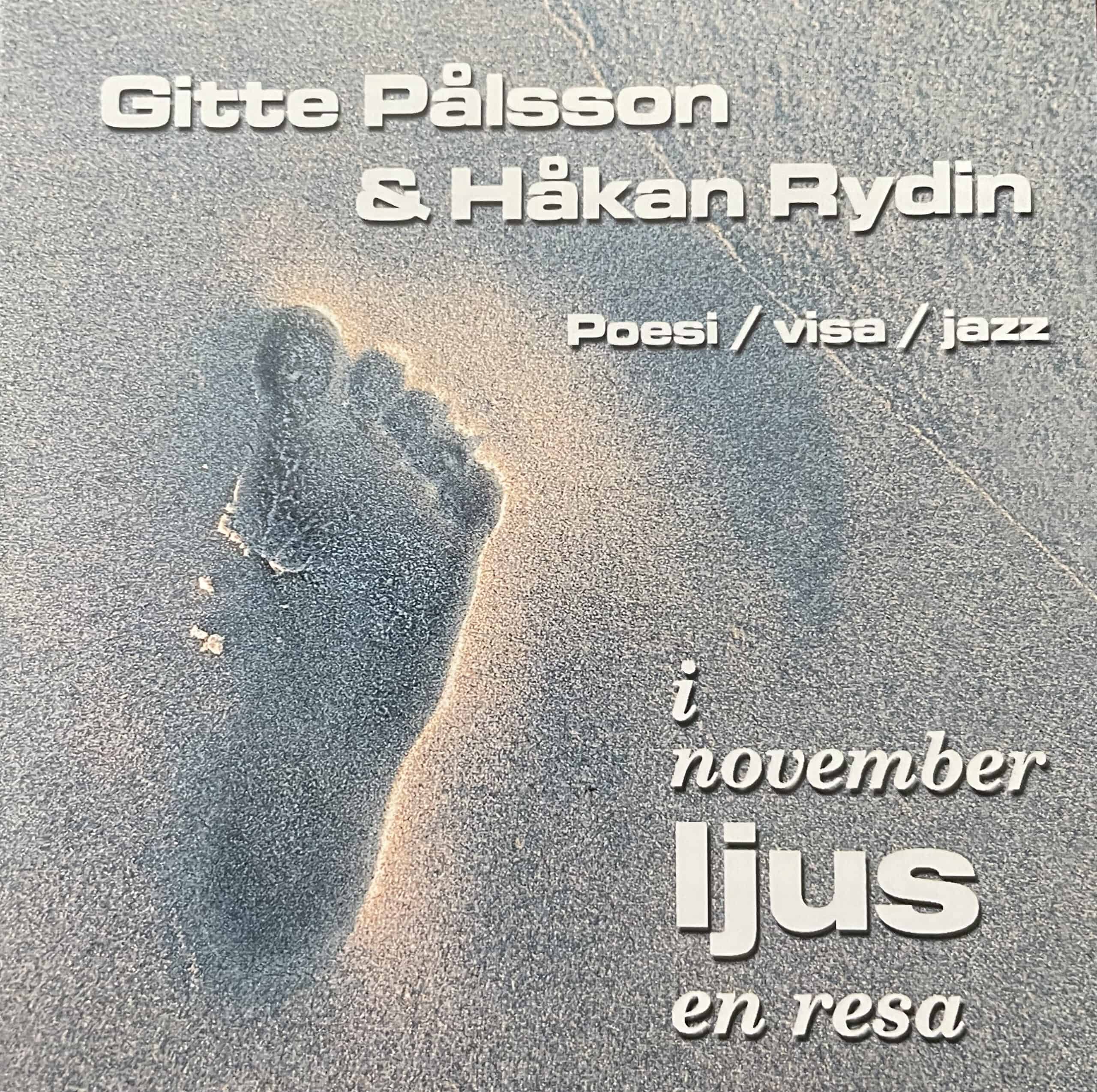 Recorded in Swedish Radio Kristianstad 2002
GPCD 03
Gitte Pålsson – vocals, text 

Håkan Rydin – piano